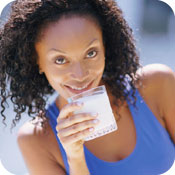 There's no doubt that calcium is essential, especially during pregnancy. According to the National Institutes of Health (NIH), the body maintains a constant level of calcium in the body fluid to support the many body functions for which calcium is necessary, including muscle contraction, blood vessel contraction and expansion, the secretion of hormones and enzymes, and sending messages through the nervous system. That means it's needed to keep your heart beating and your muscles functioning, among other things. But the calcium in body fluids and muscles accounts for only about 1% of the total calcium in your body. The rest of it is stored in the bones and teeth, where it provides structural support and acts as a sort of "savings account" from which calcium is repeatedly withdrawn and deposited.

Although calcium intake is important throughout the life, during pregnancy the daily recommendation for calcium is 1,000 mg.

The most common way to get calcium is from milk and dairy products, but what if you're allergic (or averse) to dairy or lactose intolerant? What's a mom-to-be(or anyone) who doesn't drink milk to do?

Easy. Get calcium from any of the many other places it can be found. You can find calcium in many plant-based foods, from almonds to tofu. Here is a list of some calcium-containing foods that are dairy-free, with the amount of calcium you'll find in a single serving.


Food

Serving Size

Calcium

Collard greens

1 cup, boiled

357 mg

Fortified soymilk

1 cup

368 mg

Black-eyed peas

1 cup, boiled

211 mg

Firm tofu (made with calcium sulfate)

1/2 cup

204 mg

Calcium-fortified orange juice

6 oz

200 mg

Blackstrap molasses

1 Tbsp

172 mg

Baked beans

1 cup, canned

154 mg

Kale

1 cup, cooked

94 mg

Chinese cabbage

1 cup, raw
Continued ›