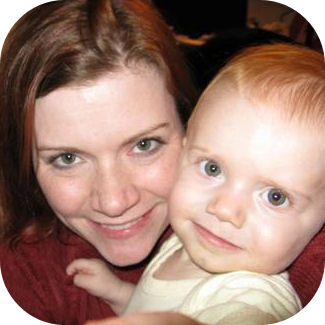 Heather, a single first-time mom from Colorado, is an inspiration to her BabyFit friends.

Here's Heather's inspiring story, in her own words:

During my pregnancy, I did a lot of research and took a breastfeeding class. I was single and on a budget, and there was no way I could afford formula. I became extremely knowledgeable in the area of breastfeeding and even joined my state's breastfeeding task force (which offers resources and support to breastfeeding women). My due-date club (January 2007) dubbed me the resident expert, and soon I was e-mailing with other new mommies that were struggling with breastfeeding.

I chose breastfeeding because I know that the benefits are awesome and that it's the most natural and the healthiest option for my child. I was a formula fed baby, so I know that formula won't "harm" a child, but the bond that I have with my daughter is so strong. To be able to provide for her in a way that no one else can is something that can never be replaced. Breastfeeding my daughter was absolutely the right decision for me, and I would not change it for the world. She almost quadrupled her birth weight in the first year, she is ahead of the social curve developmentally, and she has exhibited no food allergies! Breastfeeding has its ups and downs for everyone. No one person has it easy. Some moms definitely have a much harder time than others.

I had my struggles, too. My daughter would not latch for the first 24 hours and her blood sugar was so low they had to supplement with formula. I was almost too tired to care, but I was sad. They brought me a nipple shield, and from my research, I knew that in order to succeed at breastfeeding and to maintain my supply using the nipple shield, I had to pump after each feed. I was determined! I think that the benefits of breastfeeding far outweigh the frustrations and challenges, so I was determined to stick with it. But I also know that every mom is unique and different and what worked for me may not be what worked best for them.

The first few weeks with my daughter were amazing and scary at the same time. She was very small-only five pounds-and she had latching problems. As a single mom, I was at home by myself, struggling with breastfeeding and doing everything on my own. I gave myself the same pep talk over and over: "It's just you and her; you can do it."

One thing that helped was being able to get online, no matter what time of day, to find help on BabyFit. Even if no one was actively posting, I could search back through other posts for information. And I could just read to know that I was not alone!

After I went back to work, I pumped an amazing amount for the first few months. In fact, I had an overabundant supply and donated over 100 ounces to a family that had an adopted baby. However, being a single, working mom is stressful, and soon my supply started to dwindle. So I pulled out all the tricks I could find, like pumping more, drinking more fluids, eating oatmeal like it was going out of style, massaging my breasts, and taking nursing holidays. In the long run, it worked. It took some time to get past the dwindling supply, but again, I was determined to stick with it. Once my milk supply returned to normal, I was able to breathe easy.

Through my experience and research, I became extremely knowledgeable about breastfeeding and even helped other mothers. To date, I have personally mentored more than 10 women during their first six months of breastfeeding and helped them to maintain their milk supplies, overcome frustration, and problem solve. All of this was through the Internet, thanks to BabyFit. This accomplishment makes me proud, and encourages me to continue with the things I do for my own child.

My daughter, now almost 17 months old and still nursing, is smart, healthy, beautiful and wonderful, and I know that our breastfeeding relationship contributed to this!

How BabyFit Helped Me

I found BabyFit by Googling all the pregnancy sites, and it turns out, BabyFit was my "Jackpot" find! Little did I know then how valuable it would become to me! When I first began visiting BabyFit, I was nervous, scared single mom-to-be. But with so many different Message Boards and MommyTeams, I had no problems finding some place to fit in!

When you're a single mom, sometimes you don't have anyone else to turn to. You have to figure things out on your own. By using BabyFit, I was able to talk to other single moms, talk to hearing impaired moms (I'm deaf and have a Cochlear implant), and all kinds of moms who have suggestions and offer support during the rough patches! BabyFit is a fabulous online environment for moms who want to be a part of a community but may not have access to community groups where they live. One thing that helped me was being able to log on to BabyFit, no matter what time of day, to post and search for information. Sometimes, just by reading the other posts, I'd know that I was not alone during the ups and downs of pregnancy and motherhood.

BabyFit has helped me become a better mom because it has encouraged me to share ideas, stories and knowledge with other women, who in turn have inspired me to work towards new goals as a mom myself.

Editor's Note: Some BabyFit members offered praise and thanks to their online friend:


"Heather helped me tremendously with breastfeeding. I seriously looked everywhere for advice, books, magazines, I even wrote into a popular parenting show that's on TV here in South Africa daily and the ONLY successful and relevant advice I got was from Heather.
"She TRULY is a Lactivist!"

--OURLILALIYAH
"I, too, was inspired by NATUREDDY! My goal was to breastfeed my son for 6 months, but, thanks to NATUREDDY, I nursed until five months, then pumped from five to almost 13 months!! Without this site, but especially her, I never would have had the support to pump that long! She is the best breastfeeding advocate and supporter!"

-- CAMCAM
"If it wasn't for Heather, I probably wouldn't have left my abusive boyfriend. I wouldn't have gotten out on my own to make a better life for my son and my new baby on the way, not to mention myself."

--MANDALIZ
Do you have a Success Story you'd like us to publish on BabyFit? Send your story, along with a photo of you and your baby, to stepfanie@babyfit.com. Submissions should be 500-1,500 words and will be edited for clarity, grammar and tone.