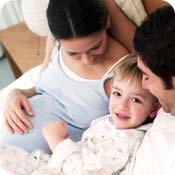 Nothing could have excited me more than knowing that I was bringing a new life into the world. When I found out I was pregnant eight years ago, I vowed to be the best mom I could. I was raised with a wonderful, caring, loving mother, and I wanted the same for my child.

One of the first things I vowed was to have a natural childbirth. I had put no toxins in my body from the moment I found out I was pregnant; there was no chance I was going to allow toxins in me near the end. I tried every activity I could: walking, yoga, stretching.

When it came time for labor, I was both scared and excited. But I knew I would conquer this with no meds, and I did. After four hours of labor and a lot of coaching from my husband and mother, my beautiful son entered the world.

Seven years later I had my second son. Same attitude going in. After four hours of labor, I delivered a healthy child-- alert and ready for the days that lay ahead.

It's now two years later, and I am ready again to give birth. In July I will go into the hospital in the same frame of mind: Women have been giving birth for years, we are strong, we are healthy, we don't need any medications to help with the process. Think positively.

Each time I've been pregnant I've spent those nine months focused on taking care of myself to have healthy children, and it was well worth it. Both of my boys are active and hardly ever sick--and I feel proud to think that to some extent that's because of my nurturing them to the fullest. I look forward to doing the same the third time around!

Do you have a Success Story you'd like us to publish on BabyFit? Send your story, along with a photo of you and your baby, to stepfanie@babyfit.com. Submissions should be 500-1,500 words and will be edited for clarity, grammar and tone.