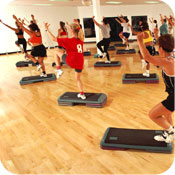 When you think about "fitness classes," what images come to mind? Do you picture skinny people (leg warmers included) jumping around and kicking their legs to loud music? Although that might have been the case 10 or 20 years ago, the latest trends in classes focus on the mind-body experience, and helping people of all ability levels.

If you considered taking fitness classes at your gym, you probably picked up the schedule, only to find a list of unfamiliar and confusing classes. Spinning? BOSU? What does it all mean and how do you decide which class is right for you? Here's a guide to some of the most popular classes and how you might benefit from them.

**Whether you are pregnant, trying to become pregnant, or have recently delivered, please discuss any new fitness class with your health care provider.**



Spinning/Group Cycling



What is it? Spinning is an intense cardio workout on a specially designed stationary bike. A certified instructor leads the class, indicating when to adjust your speed and resistance level (making it easier or harder to pedal). Spinning classes are typically set to music and use visualization techniques to enhance the experience.

What are the benefits? This class allows you go at your own pace, and set your own resistance level. There are no complicated moves to learn, so regardless of how fit, flexible, or coordinated you are, you can get a great workout. Cycling is also a low-impact exercise, which is much easier on your joints than other activities such as step aerobics or running. Since it can be an intense workout, be sure to monitor your intensity level.


What is it? This is the perfect class for parents who want to bring their child along. Stroller Strides turns your baby stroller into a portable fitness machine! The class is about 50 minutes long, and includes a warm-up, strengthening exercises, cardio, stretching, and a cool down. It's a total body workout with baby by your side.

What are the benefits? This class is a great workout for moms but also a positive experience for your baby. The visual, auditory, and moving stimuli provide new and interesting experiences for the baby. Stroller Strides instructors include plenty of interaction with baby pleasers like bubble blowing and game playing. For more information about classes in your area, check out www.strollerstrides.com.

Continued ›