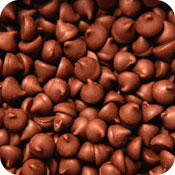 A dessert. An antidepressant. A substitute for sex. Since its discovery thousands of years ago, chocolate has become many things to many people. The Mayan people crushed the seeds of the chocolate (cacao) tree and mixed them with spices to make a frothy beverage, which was consumed at social events and religious ceremonies. Chocolate was woven into many aspects of their culture-it appeared in much of their artwork and was even used as a method of currency.

Today, chocolate is used to satisfy a sweet tooth more than anything else. But recent research about the health benefits of chocolate may persuade you to explore the world of chocolate a little more. The findings suggest that the consumption of chocolate may help prevent high blood pressure, improve heart health, and provide a bounty of antioxidants. But all chocolate is not created equal, and not all types of chocolate offer these health benefits. Here's how to make sure you're getting your currency's worth when you shop for a chocolate bar.

Consider Caffeine
It's perfectly safe to eat chocolate (in moderation) during pregnancy, but it does contain caffeine. Pregnant women are advised to limit their total caffeine consumption to 300 mg per day or less. For reference, one ounce of dark chocolate contains between 5 and 35 mg of caffeine.

Concentration Counts
To get the health benefits of chocolate, choose dark varieties. The compounds that benefit your health (antioxidants and phenols) are in the cocoa solids. The more cocoa solids your chocolate has, the darker the chocolate will appear. But you can't rely on looks or marketing alone since any chocolate can be labeled "dark," even if it doesn't contain a high concentration of cocoa. The first ingredient on the label should be cocoa, chocolate, or cocoa liquor. Choose a product that contains at least 70 percent cocoa. This percentage should be listed on the label.

Avoid the Milky Way
Most varieties of mass-marketed chocolate bars are made with milk, which gives the chocolate a creamy texture that most people enjoy. Unfortunately, this combination inhibits the absorption of the beneficial compounds in cocoa (as does drinking milk along with chocolate). In other words, if it contains milk (milk fat, lactose, whey and other milk derivatives), the chocolate no longer has health-enhancing benefits.

Cocoa Butter is Better
During processing, cocoa butter, the natural fat of the cocoa bean, is removed. When a high-quality chocolate bar is made from this processed cocoa, the manufacturer will add cocoa butter back in to the recipe. However, commercial manufacturing giants save money and extend the shelf life of their products by adding unhealthy partially hydrogenated vegetable oil to chocolate instead of cocoa butter. These companies save money at the expense of your health. Read labels and choose a chocolate that contains cocoa butter, not partially hydrogenated oils.

Continued ›