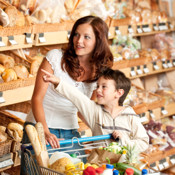 This grocery list accompanies our weekly meal plan. We've divided it into food groups to make your shopping trip easier. If there's a vegetable or other food on the list that you don't like or can't find, feel free to substitute. Be creative!

You will need the following pantry items:
whole wheat flour (or whatever kind you prefer)
sugar
baking soda
olive oil
wooden skewers
soy sauce
cornstarch
garlic
dried herbs and spices:

ginger
dill weed
thyme
mustard powder
mild yellow curry
cayenne
cumin
cinnamon
coriander (or omit it)
oregano
bay
chili powder
Dairy:

Note: Use either butter or margarine in all of these recipes, depending on your pantry and preference. You'll need a small tub of margarine or about two sticks of butter for the week.
1 gallon milk for recipes, plus however much your family regularly drinks in a week
1/2 gallon soymilk (or use milk)
8 oz. cheddar cheese
16 oz provolone cheese
1 pint plain low-fat or fat-free yogurt
1 pint fat-free sour cream
1 quart low-fat or fat-free vanilla yogurt
Protein:
1 3-lb rotisserie chicken (or a 3-lb roasting chicken)
16 oz canned chicken breast
2 lbs chicken breasts
1 lb salmon fillets
1 lb pork chops (4 medium loin chops)
12 oz low-fat or turkey breakfast sausage
1 lb beef tenderloin (or lean beef)
2 lbs extra lean ground turkey
2 dozen eggs
1 small can beef broth
1 can black beans
1 can pinto beans
1 can kidney beans
1 jar natural, no salt-added peanut butter
8 oz almonds
4 oz walnuts
Fruit:
2 lemons
1 canister raisins (or 6-pack of boxes)
16 bananas
4 apples
1 orange
1 quart strawberries (If berries are too pricey or out of season, substitute another fruit of your choice.
2 kiwis
2 mangoes (or 1 bag frozen)
1 bag mixed berries (no sugar added)
1/2 gallon 100% orange juice
Vegetables:
Fresh:
3 packages (approximately 1 quart) fresh mushrooms
3 packages (9 hearts) Romaine lettuce
1 large package fresh spinach (in the plastic container or 2 bags)
1 pint grape or cherry tomatoes
3 large tomatoes
5 white onions
3 jalapenos (omit if you prefer your foods mild)
2 pounds potatoes
7 green peppers
1 pound carrots
fresh cilantro (optional)
Frozen:
2 lbs green beans
1 lb broccoli florets
1 lb corn (or 2 cans)
Canned:
2 cans creamed corn
1 jar pimentos or roasted red peppers (optional)
1 can water chestnuts (optional)
28 oz canned diced tomatoes
Grains:
2 loaves whole-wheat bread
2 packages (8-count) whole-wheat tortillas
1 package (8-count) mini wheat bagels
1 package whole-wheat pitas (optional; could substitute bread or tortillas)
1 lb brown rice
1 box low-fat granola
1 lb whole-wheat pasta (bows or penne)
1 box shredded wheat (any variety)
1 whole-wheat pizza crust
Misc:
light mayonnaise
1 bottle light Italian dressing
1 pint sorbet