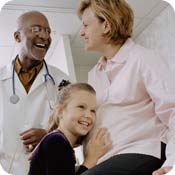 According to the British Medical Journal, the longer it takes for a couple to conceive, the higher their chance of having a boy. Researchers studied 5,000 women who had a single birth. Fifty-one percent of couples who became pregnant in less than 12 months had a boy, compared to 58% of couples who took over 12 months to conceive. Researchers suggest that with each additional year a couple attempts to conceive, the odds of them having a boy increase by four percent.

Researchers don't know for sure why a longer conception time increases a couple's chances for having a boy, but previous studies have correlated thick cervical fluids with a difficulty conceiving. Sperm that carry the Y (male) chromosome tend to swim faster through thick cervical mucus than sperm carrying the X (female) chromosome, which could explain this outcome.

BabyFit Tip: There's no sure way to plan on conceiving a girl or a boy. However, there are steps you can take before conception to help yourself get ready for a healthy pregnancy. Read "Considering Pregnancy?" for more information.