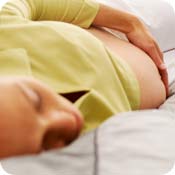 Stanford University researchers recently tested the effectiveness of acupuncture on clinically depressed moms-to-be. Study participants received one of three treatments: needling at points that acupuncturists believe affect depression, needling at non-specific points, and general massage.

After 12 sessions, 69% of women who were treated with depression-specific acupuncture improved significantly-at a rate comparable to patients who are treated with antidepressants or psychotherapy. More importantly, 86% of these women remained symptom-free at 10 weeks postpartum.

(Only 47% of participants receiving non-specific acupuncture improved, and just 32% of women receiving massage did better.)

BabyFit Tip: During pregnancy, clinically depressed women have fewer treatment options. While this study is promising and appears to show that acupuncture is a safe treatment for the baby blues, more long-term studies are needed. To learn more about acupuncture, visit the National Center for Complementary and Alternative Medicine website.