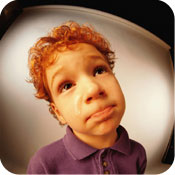 Its lunchtime at the office and you're hungry. Your morning has been stressful, and your co-workers are pooling their money for some fried take-out from the local burger joint. You decline their invitation (even though comfort food sounds particularly comforting right now), and instead sit down with the healthy lunch you brought from home, complete with whole grains, lean proteins, raw vegetables, and lots of water. You know you have an afternoon full of meetings, phone calls, and errands, and the fiber and vitamins will carry you through your to-do list valiantly. Congratulations, you made a responsible adult decision, which will benefit your energy levels and probably your long-term health. Do you think you would have made the same decision in the lunch line in the third grade?
Kids in school face complicated lunchtime decisions on a daily basis. The decision to buy or to pack is only the beginning. On the way to the lunchroom, the hallways are lined with vending machines selling soda, chips and candy. The kids in the lunchroom flock toward the a la carte counter, where they can buy French fries, hot dogs, and sugary drinks. And don't forget about self-consciousness and peer pressure, which complicate this decision even more.
What a child eats for lunch at school not only influences their energy levels in math class but also sets the stage for adult eating habits. Too many wrong decisions can be a recipe for a nutritional disaster. But if you use lunchtime decision-making as a teachable moment, you can help your child learn to make nutritionally sensible decisions. Whether your child chooses to pack or to buy, here's what you both need to know about lunchtime nutrition.
Buying Lunch


Current reports on the state of school lunches are disconcerting. According to the Physicians Committee for Responsible Medicine (PCRM), "menus in most school lunch programs are too high in saturated fat and cholesterol and too low in fiber- and nutrient-rich fruits, vegetables, whole grains, and legumes". PCRM states, "Major changes are needed to protect the health of our nation's youth and to reverse the growing trends of obesity and chronic disease among children and teens." To compound the problem, many schools operate school stores, where the students can buy fast food meals (shipped in daily from national fast-food chains), instant soup-in-a-cup (with a day's worth of sodium at no extra charge), and of course, candy and chips. These stores act as competitors to the school lunch programs, offering even less healthy alternatives.
The good news is that schools all over the country are modifying their menus voluntarily to include healthier options. In Madison County, Alabama, students returned from summer break to find many changes in the cafeteria, including smaller portions, more whole grains, and low fat milk options, all aimed at reducing the state's growing obesity epidemic. In Berkeley, California, cafeterias are sourcing their ingredients from local organic farms, increasing the foods' nutritional content as well as boosting the local economy and supporting sustainable agriculture. And in Crystal, Minnesota one school excluded fast food vendors from the school store. While reports like this are encouraging to parents, these trends vary state-by-state and school-by-school.

Continued ›