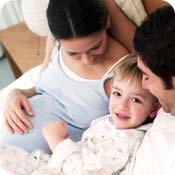 Have you thought about how great it would be to include your family in your pursuit to exercise more regularly? Family exercise will improve the health of your loved ones, make exercise more fun, and at the same time develop stronger connections between all of you. With a little creativity, you can find a way to make it work for everyone.

How to Start
First, decide what level of participation your family is ready for. If your entire family is committed 100%, you could go as far as setting up a Family Olympics. If it's a struggle to get your family to do anything together, starting out small might be the better option.

You may simply focus on educating each them about the benefits of exercise—in a smart way.

Bombarding them with stats each morning as they come down to breakfast might not be the best option. Put up a healthy living bulletin board in your kitchen (or use the fridge door) with articles and other resources that will help get your point across without having to say much of anything. For example, if one child is an athlete, an article about a successful athlete who commits to fitness could go a long way. Or, post a story about a young person who had trouble focusing at school but started exercising and saw an amazing difference.

You are only limited by your creativity!
Here are a few other ideas to get your family focused on fitness:

Combine exercise and household chores. On small pieces of paper, write down chores and body weight exercises. Throw the papers into a couple of hats and have everyone pick one of each. Maybe Dad gets to clean the bathroom and do a set of squats every few minutes until he is finished, while one of the children is cleaning the kitchen and doing forward lunges, etc—the combinations are endless. Mix it up with yard work, seasonal chores, and even some aerobic components like jumping rope.

Hire a certified personal trainer to design a program for each family member based on their individual needs, and then work out together. If Mom is looking to tone her body and her teenage daughter wants to improve her basketball conditioning, a similar circuit can be set up at home, indoors and outdoors, to achieve both.

Have each family member pick an exercise at the beginning of the week and do as many reps as they can. Then train throughout the week with the goal of improving by the weekend. The family member who has the highest percentage increase is rewarded with something small (but motivating). Keep the focus on the fact that everyone is improving.

Continued ›