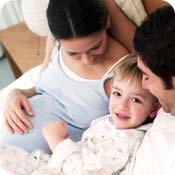 Designate one evening as family fitness night. Each week, a different person designs the family workout that you will all do together. Whether it's swimming, rollerblading, walking, Frisbee golf, riding bikes (training wheels welcome), or a two-on-two basketball game—everyone gets to do something they enjoy, and your workout will never become dull.

Buy small pieces of equipment to keep around the house. Then make some fitness rules: Exercise during commercials every time you watch TV; stretch before bed each night. Purchase a few inexpensive items (jump rope, resistance bands, stability ball, dumbbells) and rotate them through the house on a daily basis. Treat them as scavenger hunt finds-- if you find the jump rope placed in the garage, you have to use it for one minute. Next time you may find it on the porch, or in the basement.

Each week, measure your fitness levels to determine your family's overall fitness average. Add each person's own calculation of their level of fitness for the week; zero meaning they did nothing, and 7 meaning they exercised daily. Divide the total by the number of family members. Set a goal to average at least a 5 or 6 each week, rewarding the entire family if it's met.
Most of all—make it fun for everyone! In the process, you'll teach your children about discipline, goal setting, and the importance of not only health, but also family connection.