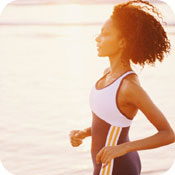 Racing teaches us to challenge ourselves. It teaches us to push beyond where we thought we could go. It helps us to find out what we are made of.
– Patti Sue Plumer

The words "I'm too slow" are perhaps the most used three words of any would-be racer or racing veteran. Many runners head to the starting line with the fear that they will be the last one to finish. Then they surprise themselves and cross the finish line well ahead of other runners. Better yet, they are well beyond their own personal goals. No one is too slow to run a race. In fact, many of today's races welcome both walkers and runners of all abilities. Everyone is applauded for simply participating.

There are so many great reasons to go to the races. For sport, competition, camaraderie, motivation, achievement, causes and just for the fun of it all.

GOOD TIMES
It used to be that racing was purely competitive. A bunch of skinny runners, predominantly men, would charge down a road with grim faces and skimpy clothes. Some would collect their prizes and promptly head home. All of that has changed. Of course, I give women more credit than men for this great boom in racing.

Marathons, 10Ks and 5Ks have now become huge events. Hoards of runners and walkers of all ages and abilities, along with their families, neighbors, friends and co-workers band together to walk or run countless races. The courses are unique, the entertainment is fun, and the fans are plentiful. Some races are known for their parties afterwards or the food and drink at the finish line. That's the fun stuff and a great way to tie everything together – work hard, play hard.

You can choose what you want to get out of each race for yourself. Maybe this one is for your strongest and fastest effort? Perhaps you are going to help another friend get to the finish, or this could be the family affair in which you spend some quality time with spouses and children. It could even benefit a charity that's close to your heart.

INSPIRATION AND IMPROVEMENT
When I was competing, I used races as goals to help keep me motivated and focused. I often found that when I didn't have a race planned, it was much easier to stray from my quality training and goof off a bit. There was nothing to look forward to or "test" myself with.

Continued ›