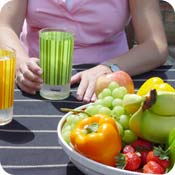 BabyFit's Nutrition Plan can meet your needs before, during and after pregnancy.

The best time to build healthy habits (and reduce unhealthy ones) is before pregnancy, so your timing is perfect! For example, if you have not already, begin taking a prenatal vitamin.

How to set up your program if you're "Trying to Conceive."

Go to the START page.

Click on ACCOUNT/EMAIL PREFERENCES on the blue left-side menu bar.

Click on EDIT MY PROGRAM PREFERENCE.

Click TRYING TO CONCEIVE.
That's it! You're finished.

For more information on preconception, visit our Eating and Conceiving and Preconception: Trying to Conceive sections.
Want to meet other moms-to-be? Find support in one of our Preconception MommyTeams.