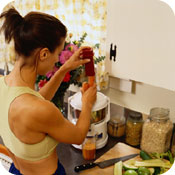 Flaxseed, also known as linseed, has been a part of human and animal diets for thousands of years. Even in the days of Hippocrates, flaxseed was eaten for its health benefits. Recently, however, flaxseed has gained popularity among health conscious Americans.

A Nutritional Plant Powerhouse
Flaxseed is the best plant source of omega-3 fatty acids (a healthy type of polyunsaturated fat). It also contains both soluble and insoluble fiber in addition to being one of the best plant sources for lignans, a type of phytoestrogen. These little seeds pack a big nutritional punch! One tablespoon of flaxseed contains:
Calories: 40
Protein: 1.6 grams
Carbohydrate: 2.8 grams
Fat: 2.8 grams (including .3 grams saturated, .6 grams monounsaturated, and 1.8 grams polyunsaturated)
Fiber: 2.5-8 grams
Sodium: 3 milligrams
Health Benefits
Research shows that flaxseed may have the ability to:
Prevent cancer and reduce tumor growth in the breast, prostate and colon.
Decrease the risks of developing heart disease, blood clots, strokes, and cardiac arrhythmia by lowering total cholesterol, LDL (bad) cholesterol, triglycerides, and blood pressure.
Regulate bowel functions and prevent constipation.
Relieve breast pain related to a woman's hormonal cycle.
Possibly improve blood glucose control in diabetics.
Help reduce inflammation associated with arthritis, Parkinson's disease and asthma.
Promote eye and brain development in utero.
Flaxseed Types
Most grocery stores do sell packaged flaxseed on their shelves, but natural foods stores tend to also offer it in bulk form. There are two "types" of flaxseed: brown and golden. Although the color and price differ, the nutritional benefits are the same. The brown flaxseed is less expensive than the golden, but because golden flaxseed is lighter in color, it's easier to hide in a variety of foods.

The Grind
To receive all the wonderful benefits of flaxseed, it MUST be ground. Flaxseed grinders are available at kitchen stores and online, but an electric coffee grinder or manual pepper grinder will work just as well. For convenience, you can purchase ground flaxseed (sometimes called flaxseed "meal"), but it will cost more. Be sure to check the date on the package for freshness.

Ground flaxseed is naturally exposed to air and light, both of which can cause rancidity and nutrient loss. To prevent this, store your ground flaxseed in an opaque, airtight container placed in the freezer.

Serving Suggestions
More studies are needed to determine flaxseed's effects in Pregnant and Breastfeeding Women, but most researchers feel that 1 Tablespoon daily is safe. Check with your physician first. It is possible to get too much flaxseed. Some studies have shown nutrient and drug interactions with the consumption of 1/4 a cup daily, so discuss this with your doctor and pharmacist. A small number of people may have an allergic reaction to flaxseed; therefore start with 1/2 teaspoon to see if an allergic reaction occurs.

Continued ›