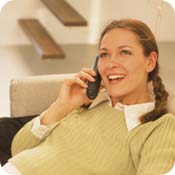 My story begins a little different than most. It begins when I was a baby and ends with my third pregnancy.

I was born addicted to cocaine. After several near-death experiences and lots of battles, five months later I would face one of the biggest battles of my life: being placed in a trash can to die in 32 degree weather. Luckily for me, a man who is my guardian angel found me and rushed me to a local hospital, where I spent the next seven months recovering.

On the day of my first birthday, my new mom and dad picked me up. Oh, the life they gave me! I could have never asked for more loving parents than they. And I can remember the stories I heard about my struggles that first year. I respect my parents for always being 100% honest with me. I can remember telling myself that when I had a child, it would receive more love than I could probably give it, but it would know that it was wanted and welcomed into this world.

As I reached adulthood, I got married at the age of 19, only to be diagnosed with cancerous tumors over my left ovary. After two surgeries, I was informed that I would probably never be able to have children. How could this be? The only thing I have looked forward to after marriage and now I am being told no. I was on a mission. I started trying right away and was so excited to learn three months later that I was pregnant.

Then one day at work, I had some very heavy bleeding and rushed myself to the hospital. The baby had aborted itself. I spent a week at home in bed with my loving husband by my side. At the end of the week, my best friend came and gave me a great talk. A mother herself, my best friend explained to me that things happen for a reason and although we do not know the reason, we have to trust where it leads us. If I could not have kids on my own, there are less fortunate children out there that need loving families, like the one I had.

After hearing this talk, I decided to give up on getting pregnant and just give my love back to the community. I decided to help children who have disabilities. I started volunteering as a helper for Special Olympics and at different events that were held around Atlanta and in my community. After helping give back to my community, six months later I found out I was pregnant.

Continued ›