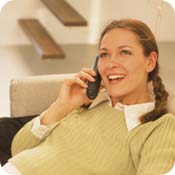 I had a very healthy pregnancy and gave birth to a very healthy baby girl, whom we named Taylor. I had my life complete at that moment. Nothing could have been more joyful to me. But imagine my surprise when we got pregnant a second time 18 months down the road, with no trying -- and definitely using protective measures. This time we gave birth at 32 weeks to a healthy girl whom we named Mikayla.

OK, so I was blessed with two very beautiful girls and all during this time, I was still helping out my community and donating my time as a volunteer. Blessings come in so many ways, and it is so great to see my children (who are now 6 1/2 and 4), volunteer with me and donate their time to help disabled children.

About four months ago, my daughters and I visited the cancer center in Atlanta, and my oldest decided she was going to donate her hair as a gift to a child who was sick. What a joy it brings to your heart -- to see your own kids with so much love in their hearts and to do such a great thing to bring a smile on another child's face! Well, this brought us even more blessings, as we are now pregnant with our next child and are due on March 5. So far, our pregnancy is great and everything looks to be going well.

We have been blessed so much in our lives, and I just hope that my wonderful husband and daughters will continue to give blessings to others as we have been blessed in our lives.

Do you have a Success Story you'd like us to publish on BabyFit? Send your story, along with a photo of you and your baby, to stepfanie@babyfit.com. Submissions should be 500-1,500 words and will be edited for clarity, grammar and tone.