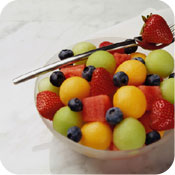 Research actually shows that snacking in between meals, or even eating 4-5 smaller meals throughout the day, is better for you than the traditional two or three larger meals. That is, of course, if you are eating nutritious snacks instead of the greasy potato chips and sugary soda to which many of us are drawn, not just during pregnancy. Including snacks or several smaller meals throughout the day is especially a good idea for pregnant women who may be feeling queasy at one point in the day, but feel fine later on. You'll be more likely to get in a solid batch of nutrients this way.

So really, it's a matter of making good snack choices when it's time for a food break to keep your energy fueled and the nutrients coming. Power foods are always a good bet, because they usually combine high nutrients and lower calories. These could be anything from grains to dairy to fruits and vegetables.

Healthy snack choices start at the grocery store. That's where the decision is made to eat healthy snacks - not at the office or on the couch, but at the grocery. Keep your fridge and pantry stocked with healthy foods so you are not tempted at home.

You still want to watch how much of these healthy snacks you eat. This is a snack, remember, not a meal. So buy, cut up or make single servings of snack foods. As an added bonus, snacking regularly can help prevent nausea throughout pregnancy. Here are some healthy snack ideas to consider next time you head to the grocery.

Yogurt
Fruit cups
Apples
Bananas
Pears
Peaches
Grapes
Plums
Oranges
Berries
Watermelon
Raisins
Carrots
Celery
Broccoli
Cauliflower
Green or red peppers
Peanut butter crackers
Nuts
Whole wheat cereal with skim milk
Trail mix
Oatmeal
Whole wheat bagel or toast
Pure bran muffins
Fruit smoothie
Spinach
Sweet potato
Tomato
Non-cream vegetable soup
Mixed nuts
Chicken noodle soup
Bean soup