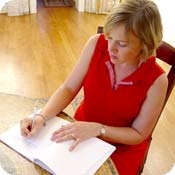 When I think about my last pregnancy, it is difficult for me to not think about the entire process that my husband, John, and I went through. On December 12, 2002, I learned that I was pregnant. John and I were ecstatic. We had wanted a baby for so long. We even had names picked out. Since Christmas was coming we decided to tell our families on Christmas Eve. It was hard to keep the pregnancy a secret for those two weeks. I had some spotting but was not scheduled for my first prenatal appointment until December 23. The nurse practitioner ordered an ultrasound for December 27. On Christmas Eve and Christmas Day, the bleeding became heavier. We tried not to worry, but in our minds and in our hearts we were scared. When we told our families, they were thrilled. My dad was so happy that he suggested the name "William Raymond," after himself and my father-in-law. We tried not to hurt my dad's feelings by not wanting to use the name, but calmly explained that we had names picked.

On December 27, 2002, I had the ultrasound. The ultrasound confirmed our worst fears. I was losing the baby, but even worse my pregnancy was ectopic. I needed to have surgery right away, before the tube burst. John and I were devastated. I can still remember lying on the gurney in the pre-operating area, sobbing over losing the baby and John's own tears getting my hair wet as he tried not to cry. We decided that day that we would "bury" the names we had selected. In our hearts, we lost a child that day. We later learned from the pathology report that the baby was eight weeks along.

I spent the next two weeks at home recovering. I cried all the time. Our family and friends gave John and me a lot of love and encouragement. Three weeks after losing the baby, our lives became very stressful. In one day, we sold our townhouse, found a house to purchase and my father was diagnosed with bleeding on the brain. Within forty-eight hours of my father's diagnosis, he had surgery to get drain the blood. On the day of his surgery, I was a nervous wreck. I'm a teacher and as I tried to focus on teaching my students, I had no idea that I was physically and emotionally exhausted. In just three short weeks, I lost my baby and almost lost my father.

Continued ›