Hundreds of SparkPeople members convened with SparkPeople employees and coaches at the San Diego Convention Center on May 2, 2009, for the world's first Spark Your Life Convention! We realize that many members were unable to attend this special day, so here is a summary of the daylong event, with commentary from members who were there.


The day kicked off with the choice of a 30-minute Fun Run or Morning Walk outside the convention center. SparkPeople employees led the way, with help from San Diego members who volunteered to help during the event. It was just what we needed to energize for the day ahead!

"When we arrived Saturday morning for the Walk/Run, we got to meet SP_NANCY and Jenny," said attendee JANEYJAYE. "I think I squealed for joy when Nancy tapped my shoulder and I turned to meet her face to face. She was one of the Sparkers I was looking forward to meeting most and there she was smiling and just as excited to meet all of us as we were to meet her."


Next, Chris "SparkGuy" Downie, SparkPeople's founder and CEO, got the day started off right as the keynote speaker. He explained how he used simple goal-setting and fitness principles to overcome anxiety, increase his energy, and thrive in the world of business. His professional success provided the fuel he needed to start SparkPeople.

"The story behind SparkGuy's vision is truly amazing...I had no idea that he trudged on, despite obstacles, with $50K on his credit card, driving a beater car with a window that wouldn't roll up, scraping ice off the INSIDE of his windshield, and didn't quit. Because of his tenacity and persistence, SparkPeople is a HUGE success. It's exciting to be a part of SparkPeople," WHATAGRL42 blogged after the day was over.

AKIBERI, another member who attended said, "Let me tell you, there is something really special about that Chris 'SparkGuy' Downey and his team! They really have a lot of love for all of us Sparkers...what great and positive energy I felt from them all!"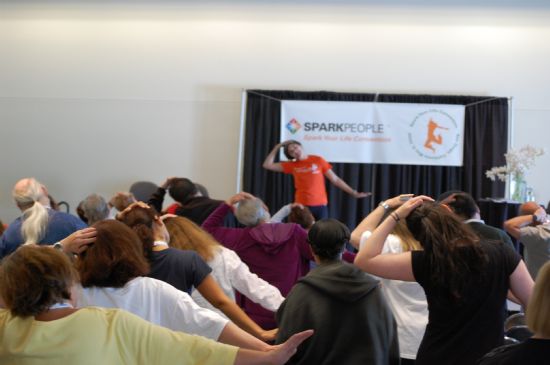 During breaks throughout the day, members took part in stretching sessions led by Coach Nicole, met up with their online friends, and participated in fun activities that brought SparkPeople.com to life! From handing out SparkGoodies to completing tasks to earn SparkPoints, we took advantage of every minute of the day!


There was a real-life SparkPoints Wheel that each person got a chance to spin and earn points and prizes!

"We took breaks in between speakers and one of the activities was spinning the big wheel for points. I won a T-shirt!" AKIBERI recalls.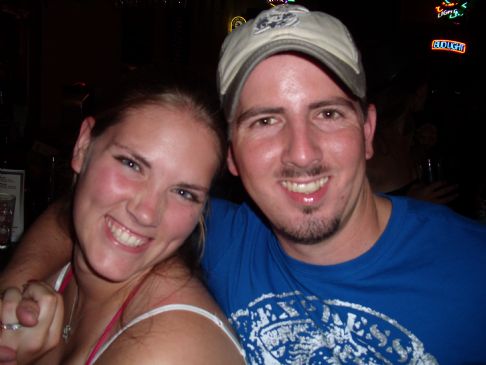 Like the Huddle Walls on your SparkTeam pages, we created a Huddle banner for members to sign and comment on throughout the day. It was a hit!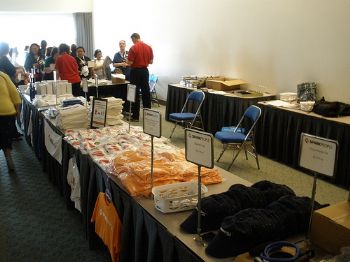 Members shopped at a real-life version of SparkPeopleStore.com, where they were able to see all the merchandise in person, try on T-shirts and performance tops before buying, and purchase exclusive items not yet available in our online store, such as SparkPeople workout towels—coming soon!




Later, five of SparkPeople's most successful members (pictured left to right: S318830, STACEY-P, WOLFKITTY, SPRING4FAL, ZIRCADIA) shared their secrets of success with the crowd. Through inspiring videos, they shared their weight-loss stories in their own words and photos, then each explained three strategies that helped them the most. You can see their videos and learn their secrets, too, by clicking on their names above!

DISNEYMOM said this was, "the most inspiring part of the day…It was so moving, I almost cried with them a few times."

"This was particularly touching," agrees JILLYBEAN25. "They told us their stories—from their weight gain, to feeling terrible about themselves, to doing something about it, to their successes, triumphs, setbacks, etc…The ladies shared some truly invaluable ideas with the crowd."

Before we knew it, it was time for a two-hour lunch break, where members could choose from all sorts of activities: a panel discussion with the SparkPeople staff, an outdoor workout with Coach Nicole, another group walking session, or lunch with their SparkFriends!

"They had a great panel discussion with the resident experts and they made notes of a lot of suggestions we had to improve the site and make it even better in the future. What struck me the most was how much each and every person who works for SparkPeople genuinely cared about what we had to say. I think that level of care is one of the things that has made Spark so successful for us, and once we Spread the Spark some more, the potential for the future of Spark is huge," DISNEYMOM said about the panel discussion, which gave attendees a chance to ask questions and offer suggestions.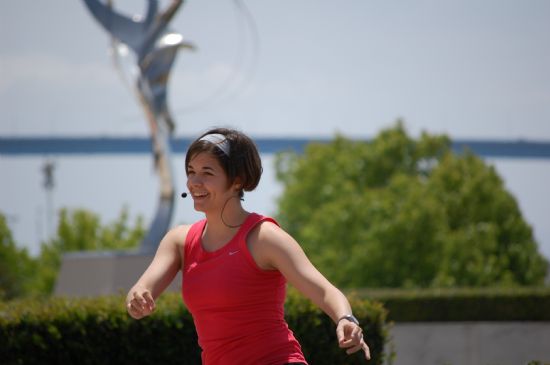 A few dozen members joined Coach Nicole's workout and enjoyed a beautiful view of the marina. "That was fun...and we had a lot of laughs, too," AKIBERI said.

"I skipped lunch with my teammates to do a LIVE workout with Coach Nicole. She led two 20 minute workouts…I am so uncoordinated but it didn't matter because I was having a blast participating with other Sparkers in a group workout." JANEYJAYE
After lunch, SparkPeople expert Nancy Howard reflected on her own weight-loss journey, which led her to join SparkPeople and eventually become an employee!

"She was a bubbly, warm woman with a cheery Texas accent! She said that we are all athletes. We just need to channel our inner athlete and get moving," JILLYBEAN25 recalls.

"Her story is so much like many of ours," JANEYJAY said about Nancy."She is inspirational on how to take our success and turn it into a career and to live her new life each and every day and share that with her husband and daughter!"


Up next, SparkPeople's head dietitian, Becky Hand, awakened the crowd with a fun presentation about food and healthy eating that included a quiz to determine what type of eater you are.

"Then there was our resident expert and dietitian Becky Hand... what a hoot she is! She really knows her stuff, people...so read all her articles! She is so nice," AKIBERI

"Becky Hand is so funny and such a delight to listen to. She spoke to the group on portion control, organizing your kitchen and led a group worksheet activity on the type of eater we are, so I learned something valuable about myself." JANEYJAYE


After a special guest appearance by fellow author and life coach Cheryl Richardson, SparkGuy addressed the crowd one more time to bring the day to a close. This time, he told everyone about his forthcoming book, The Spark, which will hit bookstores this December. He talked about how the book would be different from the website and how it can help people reach goals they never thought possible. He also gave away autographed copies of the book to five lucky winners!

"Cheryl Richardson...all I can say is look her up on Amazon.com and get all her books...that is how good she is...WOW!" AKIBERI

"Spark Guy ended the day for us by previewing the new SparkPeople book, entitled 'The Spark' due out December 29th of this year! How awesome is that? Finally, a book! It's got great stories from people, as well as tips, advice, etc. It looks like it'll be a must-read! I'm very excited about it." JILLYBEAN25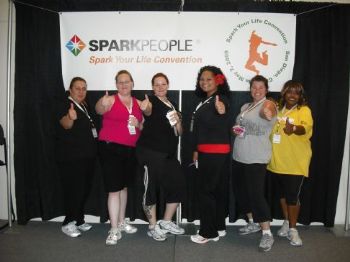 It was a great day and everyone was sorry that it had to come to an end. Here are more of the great comments from members who attended.



"I loved the first Spark Your Life convention. Talk about getting a shot of motivation! It was surreal to see SparkPeople.com come to life! I got to spin the BIG WHEEL, got to work out to Coach Nicole's Cardio Blast in the balmy San Diego breeze, with the marina in the background, and best of all, I got to meet fellow sparkers in person. Some of those people, I have been communicating with here on the site for the last 3 years, so that was definitely a cool experience to see that my friends were REAL. There was so much positive energy, and so much motivation and great information shared. I am truly hoping there will be more spark conventions in the future!" WHATAGRL42





"The convention was fantastic! I met a lot of different SparkPeople, some who are on my Teams, some who I had never seen online before. We chatted and exchanged Goodies and just had a really great day." DISNEYMOM





"It was fun! So fun to meet SparkPeople and get to know them in person. The whole thing was definitely a bit surreal because you are meeting some people that you know way more about than anyone you've ever met for the first time face to face." ZIRCADIA





"Wow, what can I say about the SparkPeople Convention that hasn't been echoed by everyone else who attended? It was an amazing experience, with so many great lessons to be learned from the people there!" JILLYBEAN25





"What a great time we had being a part of the first annual SparkPeople Convention! You really have no idea how great this company (well I did) is until you have personally met the masterminds behind it." AKIBERI





"What an absolute blast! I had the best time. The only thing that would have made it better for me would be to have it 2-3 times longer. One day just wasn't enough." S318830





"From the beginning to the very end I had the biggest smile ever. I am now more MOTIVATED & EDUCATED to make this journey a LIFESTYLE! Just being able to meet so many Spark buddies and make new ones made it all worth it…I look forward to the next convention and meeting once again all of my fellow Sparkers! The staff is awesome." ISLANDSFINEST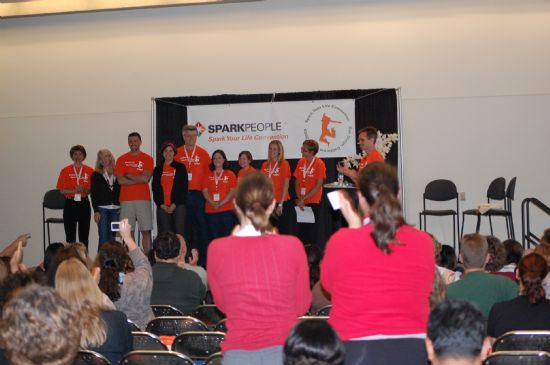 Special thanks to Hay House and the SparkPeople staff, who worked so hard to put on a great Convention, and the members who volunteered, attended, shared their comments and photos and made the day memorable! Please stay tuned for more great video from the day--coming soon to SparkPeople.com!