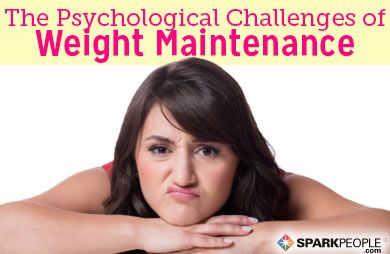 Why is weight loss—especially keeping it off—so hard? Like other areas of human endeavor, we know what we need to do, and we certainly want to be successful. So what's the problem? Why don't we just do what we know we should?
This troubling little quirk of human nature has attracted the attention of scientists, philosophers, theologians, and artists for thousands of years, and there is little reason to think we'll have an answer anytime soon. But what we do have right now is quite a bit of information on how those who fail often become their own worst enemies, and what successful people (in weight loss and other goals) seem to do differently. From a psychological perspective, The Three P's of Failure and The Three S's of Success can help summarize this.
This article (the second in the three-part series about the challenges of weight maintenance) will focus on the Three P's of Failure. The third will discuss The Three S's of Success. (Click here to read "Keeping the Weight Off – Part 1: Biological Challenges of Weight Maintenance")
The Three P's of Failure
Looking at the word you wouldn't notice, but there are actually three P's in "failure": Personalized, Permanent, and Pervasive. These terms refer to three elements of what psychologists call your "attributional style"—the basic, often unconscious assumptions you use when explaining to yourself why you do what you do and why you get the results you get.
In a nutshell, people who repeatedly fail at permanent weight loss tend to make three basic assumptions about the problems they encounter:
They assume a personal flaw or characteristic (weakness, incompetence, lack of will power, self-indulgence, etc.) is responsible for the problem. Often, this goes hand-in-hand with the assumption that, when they are in fact successful, it must be due to something external to them—luck, assistance, or force. In other words, they personalize failure and externalize success.

Not surprisingly, people who are usually successful tend to follow the opposite pattern: they externalize failure and internalize success.

They assume that this personal flaw is permanent, some unchangeable trait they will always have to contend with, rather than something that can be rectified through education, practice, planning, support, or personal growth.

Again, the most successful people tend to do the opposite. They assume that a personal shortcoming can be changed or worked around—if they put in the appropriate effort.

They assume that the personal, permanent flaw is also pervasive—that it affects all areas of their lives, not just the problem at hand. Thus, everything that goes wrong in one's life becomes an opportunity to confirm their pessimistic assumptions about themselves. Even when things go well, these basic self-assumptions do not change (because again, success is externalized). This makes it very difficult to learn from negative experiences to make appropriate changes in behavior. Continued ›
Article created on: 9/28/2005