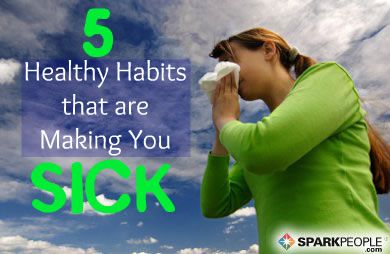 You eat right (most of the time), hit the gym regularly and keep a clean house, especially during cold and flu season. So, why are you still getting sick? It turns out that some of the best things we do to stay healthy can expose us to germs when done wrong, too much or, sometimes, just too frequently. To keep your immune system intact, check out the list below.

Catching Up on Sleep
You might have heard that, despite the temptation to sleep in on the weekends, it's best to maintain a regular sleep schedule. Did you know that too much sleep (and too little sleep, of course) can actually hurt your health?

It's clear that a regular sleep schedule--one in which you go to bed at the same time each night and wake up at the same time each morning--is effective in promoting long-term health, and preventing changes in your circadian rhythms, or your body's internal clock, that will cause sleeplessness when you return to your normal schedule.

Here's what happens: You're short on sleep all week, then you crash on the weekend, hoping to make up the lost hours. Instead, you find yourself wide awake at your normal, weekday bedtime. You end up losing the hours you'd gained, and then you go right back to a shorter sleep schedule.

Over time, losing sleep takes a toll on your immune system, which can leave you vulnerable to colds, the flu and worse.

Exercising
Aerobic exercise kick starts the immune system, and regular sweat sessions can help you avoid picking up minor ailments. However, increasing your activity level quickly or simply working out too much can put you at risk for the same health problems.

The best training regimens make room for activity and recovery, so be sure to schedule regular periods of rest when you work out. Exercising too frequently or too intensely can temporarily decrease immune system function, leaving you vulnerable to illnesses such as viral infections.

Currently, the Centers for Disease Control and Prevention recommend 2 1/2 hours of moderate aerobic activity or 1 1/4 hours of strenuous activity a week, along with muscle strengthening exercises twice a week. Check with your doctor if you're thinking of a change in your routine or if you suspect that you might be working too hard when working out.

Cutting Calories
Kudos to those trying to regain a healthy weight by limiting food intake and exercising regularly. However, don't let your zeal for calorie control mean that you don't get needed nutrients. For example, dieting can lead you to skip breakfast, which truly is the most important meal. People who eat breakfast get more nutrients than those who skip it, and those nutrients can lead to a healthier immune system. If you need to cut back on calories, keep your morning meal intact, then space your intake throughout the day.

Continued ›
Article created on: 12/24/2013