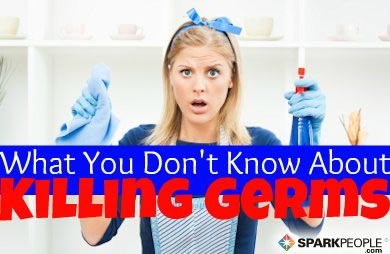 Worried about catching the cold or flu this year—or helping to keep the germs of one sick family member from infecting others in your house?

Beyond hand washing and self-imposed quarantine, some time spent cleaning, disinfecting and sanitizing high-traffic areas can ensure your home sweet home stays healthy, too. But what you think you know about killing germs—and what actually works—may surprise you.

Though the terms are used interchangeably, cleaning, disinfecting and sanitizing are three completely different things. Some household products can perform double or triple duty. In some cases and on some surfaces, cleaning alone is enough to prevent illness; but disinfecting and sanitizing act like an insurance policy to further rid your home of germs.

Here's what the three terms really mean:


Cleaning
Disinfecting
Sanitizing

Physically removes germs from surfaces but doesn't kill them

Uses soap or detergent and water plus friction to remove germs

Should be done before disinfecting and/or sanitizing



Kills all germs on surfaces within 10 minutes

Doesn't remove germs or clean dirty surfaces

Should be done after cleaning

In public settings, such as schools and hospitals, it's more important to disinfect than to sanitize


Kills 99.999% of germs on a surface within 30 seconds

Either cleans or disinfects surfaces or objects, depending on the products used

Some products can do all three, depending on the time left on a surface

Cleaning Products
Disinfecting Products
Sanitizing Products
Borax

Baking soda

Soap

Vinegar




Chlorine (bleach)

Pine oil* (Pine-sol)

Phenolic (Lysol)

Vinegar (10% acidity)





Chlorine (1 teaspoon diluted in 1 quart water)

Phenolic (Lysol)

Quaternary ammonium (found in many all-purpose cleaners)

Alcohol (at least 60%)


* Pine oil is toxic to cats.
Continued ›
Article created on: 8/22/2013