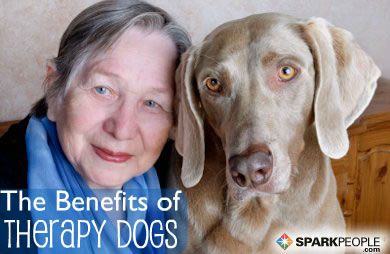 If you're regularly greeted by a warm, sloppy embrace, a heedless leap to a landing into your arms, or an unadulterated, adoring gaze, you might be a pet owner. Owners of pets from cats to canaries know the day-to-day benefits four-legged or feathered companions. Recent research has also shown that therapy animals, and dogs in particular, can bring smiles to our faces and help us lower stress, heal faster and feel better overall. And you don't need to be a pet owner to benefit from therapy dogs, either.

What is a Therapy Dog?
Therapy dogs are trained to provide comfort and companionship to patients in hospitals, people going through mental health counseling, elderly individuals living in retirement or assisted living communities and more. Unlike service dogs, they're not paired with a specific individual or covered by the Americans with Disabilities Act. Instead, they're trained to comfort all different types of people. They've even been used to help autistic children learn to socialize.

Therapy dogs can be of any size or breed but are generally at least a year old. (Puppies' temperaments are more likely to change over time.) A therapy dog is calm, sensitive to emotions, patient and gentle, and, perhaps most important, enjoys being petted and touched.

Therapy Dog Certification
There are a variety of organizations that certify therapy dogs, both on the regional and national levels, and credentialing varies by organization. For example, Therapy Dogs Inc. is a national organization with more than 12,000 dog/handler teams. Along with a variety of behavioral traits, the organization requires dogs to complete several supervised visits before allowing a dog and its handler to begin official visits.

At the New York-based Good Dog Foundation, dogs are pre-screened by a trainer, then enrolled with their handlers in therapy courses led by experts to learn obedience and practice responding to unfamiliar environments, such as schools or nursing homes, and unexpected behaviors, such as an uneven gait or clumsy touch. Finally, a veterinarian assesses each dog before it is certified. Therapy teams are recertified annually.

Other programs focus less on training than on registration, such as the American Kennel Club Therapy Dog Program, which bestows the Therapy Dog title to animals that have completed 50 visits, are registered by an AKC-recognized organization and are AKC-registered or listed themselves.

Benefits of Therapy Dogs
Sometimes called "animal-assisted therapy" or "animal-assisted activities," depending on how spontaneous the encounter is, the process of interacting with a therapy dog can be as simple as hugging, holding or petting the animal. For people with post-traumatic stress disorder, a dog can provide emotional support, evoke feelings of love and offer companionship and stress relief, as well as a reason to socialize with other humans.

Continued ›
Article created on: 7/17/2013