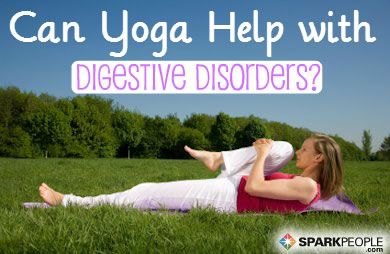 Most of us give little thought to our stomachs, or any of our internal organs for that matter. We focus primarily on the muscles and bones, rarely paying attention to our organs until they cause pain or discomfort. People suffering from heartburn (GERD), indigestion, irritable bowel disease, chronic constipation, Chron's disease and other digestive issues know this all too well. While there are many things these individuals can do to reduce symptoms and flare-ups, is yoga one of them? And for people who deal with intestinal distress on a regular basis, who already practice yoga (or want to) is there anything you can do to reduce symptoms (like cramps or gas) during class to make your practice more comfortable overall?

The Purpose of Yoga
Hatha yoga was created to help people sit quietly, to calm the body so the mind could rest. Those who tried to sit quietly found they couldn't, for a variety of reasons, the distractions of gas, excess bile and other GI issues chief among them. Ayurveda, the Indian system of health that is a "sister" practice to yoga, says that inefficient digestion is the root of many diseases. They helped solved these issues by following a "yogic diet," which bears resemblance to dietary guidelines for those suffering from GERD or IBD: Avoid caffeine and other stimulants, pass over spicy food and limit fat intake; eat simply, not too much or too little, and allow plenty of time between meals and bedtime for proper digestion.

The Yoga Sutras, the ancient text upon which most yoga practices are based, says that a healthy digestive system yields radiance in the body. That brings us to the yoga poses, many of which were designed to help cleanse the body and soothe specific internal organs. Ancient yogis concluded that the body's organs, especially the digestive system, could benefit from being compressed, twisted and massaged from the outside. While most modern yoga classes focus on the muscular and skeletal aspects of poses, the "asanas" (poses or postures) were designed with a specific internal organ or system in mind—not necessarily as a focus on the muscles and bones, as we think of it today.

Asanas help bring fresh blood to your organs. By practicing yoga, we keep the organs moving, gently prodding and twisting them. According to yogic wisdom, twisting poses in particular are said to "wring out" our organs, stimulating blood flow. And the gentle physical activity of yoga also may help get digestive juices flowing and food moving on through! By bringing your attention to your inner body and your organs, you also stimulate the parasympathetic nervous system, which slows down bodily processes and supports digestion and elimination. Yoga's diaphragmatic breathing even gently massages the internal organs.

Continued ›
Article created on: 7/16/2013