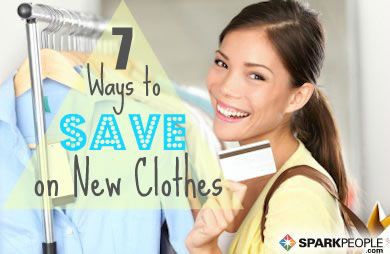 Think those fashion-forward trends are too expensive for your small clothing budget? Think again! You can have champagne taste and still get the wardrobe you want by adopting some smart, budget-friendly shopping tips. These seven dollar-saving tricks will help you get the most bang for your buck while providing you with a fabulously frugal wardrobe.

Tip #1: Skip the Department Store, Spend Online
A lot of the time, shopping online can be a big money saver when it comes to buying new clothing items. If you try something on at the store that you absolutely love, go ahead and jot down the name, brand, style and size then search for the same item online rather than purchasing in-store. The chances are in your favor that you'll find a better deal online. Signing up for your favorite retailer's email newsletters will also keep you in the loop as they send you the skinny on sales directly to your inbox (some sales and clearance items are online exclusive, too!). You can save a pretty penny on not just tops, dresses and jeans, but designer shoes and accessories, too.


Tip #2: Scour the Web for Coupon Codes
Whether you're heading to your favorite clothing store or looking to shop online, browsing the web for coupon codes can save you cash either way. Websites like RetailMeNot.com, KeyCode.com and CouponChief.com can help you find discounts on clothing items plus discounts on shipping (sometimes shipping is free!). You can also do a Google search for coupons on blogs by searching for the store name and the word "discount" or "coupon." Oftentimes, you can find coupons and discount codes directly on your favorite department store's website, as well. Just click, print and bring those coupons with you if you plan to shop in-store.

Tip #3: Spend Less with Social Media
Even if you're subscribed to your favorite clothing boutique and department store's e-newsletters, you may not get in on all the good deals unless you follow their Twitter and Facebook pages. Often, small local shops and even larger chain stores post discounts, deals, sales and coupons exclusively for their social media fans and followers. So, click that "Like" or "Follow" button and watch the deals roll in on your social media news feeds.

Tip #4: Grab Basic Wardrobe Essentials, Then Build Upon Them
Everyone should purchase some durable, basic pieces for their wardrobe that they can mix and match then pair up with practically anything. A wardrobe that contains certain pieces will help you keep more cash in your pocket each season--you'll already have your tops, skirts and jeans no matter what! Fill your closet with classic, solid colors, neutrals, a little black dress and some dark denim. Then, whenever the seasons change, shop for some new trendy accessories, jackets and shoes to add some fun, sophistication or pops of color to your classic wardrobe. Read more about the fashion essentials every woman should own.

Continued ›
Article created on: 7/8/2013