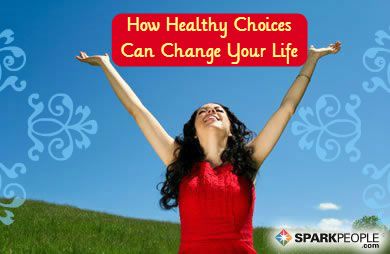 Lisa (LOFLLAMA) could have been the poster child for a life gone awry. Having battled mental illness and alcohol dependence for many years, she thought her existence was hopeless and was so depressed that she wished her life would end. But with the right doctor and treatment plan, she found her way. Along her journey, she discovered SparkPeople, started exercising and eating better, and even reached her goal weight. Lisa realized that a healthy lifestyle helped her not just physically, but also mentally. We asked her to share how her healthy habits helped her overcome depression and other obstacles. Her inspiring story proves that even uphill battles are worth fighting when it comes to your health and happiness.

How have you battled with depression and health issues in your life? How have they affected you?
I suffered from depression as a child, through my teenage years, and well into my adult life. Because I have bipolar disorder, I also suffered from mania, which often times manifested as seizures and panic/anxiety attacks. I started drinking alcohol in my early 20's and became a full blown alcoholic within a few months. I was drunk most of the next decade. In February of 1997, I had a nervous breakdown (also known as a psychotic break from reality), caused by a severe manic episode. It was actually one of the best things that ever happened to me because I was diagnosed with bipolar disorder for the first time and put on medication. On October 13, 1999, I got sober. In January 2002, I was diagnosed with fibromyalgia and started on a horrible roller coaster of narcotics. Two and a half years later I had neck surgery for a missing disc and degenerative bone loss. Through all of this, I relapsed back to alcohol use to numb all of the pain I was in. Finally on January 12, 2006 I turned away from alcohol and have been sober ever since. I will never drink again because I truly understand what alcoholism will do to me, my health, my family and my life.

How has adopting a healthy lifestyle helped you improve your life and depression management?
I gained 65 pounds after beginning lithium medication for bipolar disorder, so I asked to be taken off of it. I've been on Zoloft for the last 16 years since I've been out of the hospital. I consider it like air or water. It's just part of my life—my HAPPY life! Just before my son was born in July 2001, I weighed 201 pounds. I'm 5'9", but very small boned. Much to my horror, I barely lost any of the weight I had gained after my son was born. Because of my medical issues, I wasn't able to do much of anything except take care of my son.

When I was first diagnosed with fibromyalgia my doctor told me to exercise. I laughed at her. I said, "I can't even get out of bed some days. How can I possibly exercise?" But I bought a swimsuit and some leg weights to start working out. I had such a great feeling of satisfaction with myself that I wanted more. The next day I did it again and felt even more satisfied. By the end of the first week I felt better than I had in years—not just physically, but also mentally. I just kept going. I joined SparkPeople in February of 2008. It took me about a year, but I got down to my goal weight of 140 pounds.
Continued ›
Article created on: 6/13/2013