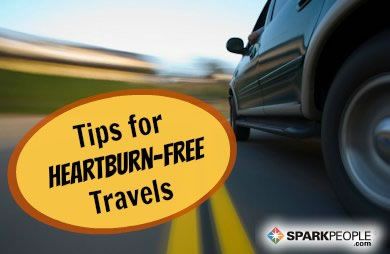 Whether you're vacationing or going on a business trip, traveling can be a prime trigger for aggravating your GERD/heartburn symptoms. What with the disruption of your regular routine, bigger meals, unfamiliar foods and sporadic eating schedule, it might seem impossible to avoid heartburn while on the move.

However, with a little bit of forethought, avoiding a flare-up away from home is entirely doable. Here's how to make your next trip heartburn-free!

Avoid Eating Heavy Foods before Traveling
Before you begin your journey on the road or in the air, make sure to keep your meals light to avoid a possible heartburn flare-up while en route to your destination. Bring snacks with you to eat on the plane or on the road, and eat until you're just barely satisfied—not stuffed!

Do Your Research on Local Cuisine
If you're traveling to an exotic location, chances are that you might need to do a little research on the local cuisine before you get there. As a heartburn sufferer, sitting down at a restaurant in a foreign country without being able to recognize anything on the menu is a recipe for disaster. Before you leave for your trip, look up some of the most common local dishes and what ingredients they contain. Write down a list of foods to avoid (e.g. spicy and acidic foods) as well as a list of acceptable foods to look for so you can navigate any menu worry-free.

Avoid Eating Large Portions
While traveling, eating can often become a main event, and you will probably be tempted to enjoy large portions of foods that you don't tend to have very often at home. But in order to ensure that you don't have a heartburn flare-up that could disrupt your trip, it's important to reign in the portion sizes, especially when the food is rich. Make a point to sample a little of everything, but be sure to stop eating before you're full. This way, you'll be able to enjoy the food of the region without feeling sick for the duration of your trip.

Avoid Eating Late
Travel can disrupt your regular sleeping and eating schedule, especially if you're trying to cram as many activities in as possible on vacation or doing a lot of late work on business trips. If you can, try to cut off your food and drink consumption about three hours before you plan to go to bed, as lying down with a full stomach can exacerbate heartburn symptoms.

Continued ›