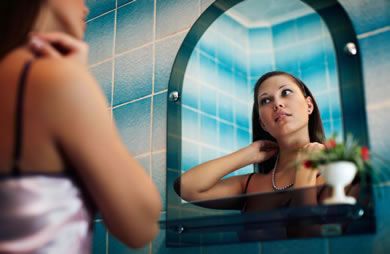 Looking your best doesn't have to be difficult—just start from the top with healthy, shiny, manageable hair. Here are some basic ways to help your crowning glory look its best.

Washing Your Hair
Great-looking hair starts with a solid shampooing technique. Wet your hair thoroughly to minimize the damage that may occur when rubbing shampoo into the hair. Use only a nickel-sized dollop of shampoo—more isn't better, as using too much shampoo can strip away valuable moisture from your hair. Concentrate on the scalp, and only use the pads of your fingers to massage the lather into your roots. If your nails need a trim, take care of them before you wash your hair, as sharp fingernails can rough up the outer hair cuticle, making it tangled and damaged. The lather will wash down the length of your hair as your rinse it out, so there is no need to lather your entire head of hair unless you typically use a lot of hard-to-remove styling products.

Use a shampoo formulated for your hair type (dry, oily, normal or color-treated) for best results. Each formulation contains a different balance of cleansers made for that specific hair type. For instance, a shampoo for oily hair will contain a stronger detergent that's capable of cutting through the excess oil, while a shampoo for color-treated hair will be milder in order to avoid stripping out the hair-coloring molecules.

How often you need to shampoo will depend on your hair type. Unless you hair is oily, you can usually shampoo every other day—even less often if your hair is very dry or coarse. In between shampoo days, you can simply wet down your hair and restyle it.

Conditioning Your Hair
A good conditioner is needed after every shampoo to smooth down the hair's outer layer and to protect it against damage. For best results, apply conditioner to the ends of the hair only, and comb it through with a wide-toothed comb. The ends of the hair are the oldest and need the most moisture. Rinse with cooler water to help seal the cuticle and maximize shine.
Continued ›