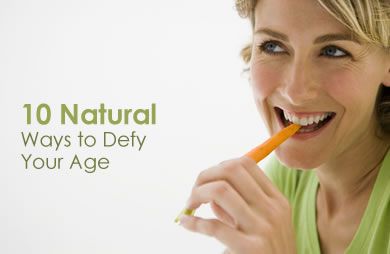 Have you noticed that every magazine you pick up lately has advertisements for the many ways we can look younger than our chronological years? There are ads for injections and creams to remove our wrinkles, surgery to zap away our fat, and hair dyes to cover every bit of gray. It's as if aging is something to be ashamed of; something we should hide—and fight—every step of the way.

But aging is inevitable! The alternative isn't one I would like to choose. We should be proud of the years we accumulate. They are accompanied by wisdom, experience, and greater insight. Growing old, I'm on board with. But looking old? I'm not so hot on that idea yet.

Although anti-aging cosmetics and procedures may have a place in your overall routine, there are plenty of natural ways to slow the aging process. We shouldn't forget that the true key to looking younger is feeling younger. There is nothing that ages an individual more quickly than illness, pain and stiffness, or chronic stress. Therefore, much of what we do to take care of ourselves on a daily basis will also help us keep a youthful appearance.

Here is a rundown of the many things you can do that won't cost (or hurt) too much, but will make you feel vibrant and strong. Let's be proactive in our approach to aging and grow into our later years gracefully and beautifully!


Adjust Your Mindset: YOU Control How You Will Age
Research has found that the most serious aging occurs at the cellular level. Many of our lifestyle habits such as exercise, nutrition, stress management and sleep will enhance the body's ability to repair the cellular damage that is inevitable as we get older.

Traditional medicine focuses on treating illness to prolong life. But many healthcare professionals want to shift that focus to preventing disease in the first place. We want to not only add years to our life, but life to our years.

Disease occurs when we fail to keep our bodies and minds active; it is not an unavoidable result of getting older. Arthritis, osteoporosis, high blood pressure, high cholesterol, heart disease and even dementia often occur because of the accumulation of unhealthy lifestyle habits rather than as a result of years ticking by.

Much of what you decide to do on a daily basis will not only prolong the length of your life, but the quality of those years as well.

Continued ›
Article created on: 9/4/2012