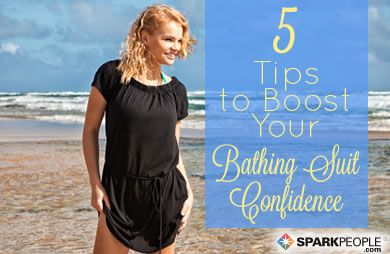 While training one of my clients, we had a conversation that left me thinking for days. Elaine has been exercising with me for over 10 years, is in her seventies, and truly one of my role models. Her high energy, devotion to staying fit and healthy, and positive attitude towards life—along with her trim and toned body—were things that I admired.

I mentioned how happy I was that I had bought some new bathing suits before a winter vacation, and thus could avoid the dreaded bathing suit shopping that we all embark on come spring. (Yes, I too, put bathing suit shopping on the top of my list of things I prefer to avoid.)

Elaine replied, "I haven't worn a bathing suit in over 20 years." I was shocked and confused. This is a woman who travels to Florida a few times each winter, has a beautiful pool in her backyard that her grandchildren play in all summer, and has a body most 70-year-olds would envy. Why in the world would she deny herself the joys of swimming and playing in the pool or lounging on the Florida beaches?

Her answer: "I can't stand to have my body that bare for the world to look at. It's wrinkled, flabby and old!" Her response was upsetting. If someone like Elaine, a self-assured, confident and smart woman, has body image issues, is there hope for any of us? And, will these feelings follow us through life, into our 70s, 80s and beyond? How in the world did it get like this?

At this time of year, the warm weather can dramatically affect our body images. We shed our bulky sweaters and jackets, no longer able to hide our bodies from the outside world. Shorts replace pants, spaghetti straps replace long sleeves, and of course, a visit to the beach bares even more!

Media headlines all share a common theme, promoting quick weight loss, summer shape-ups, and choosing the right bathing suit to hide your flaws. Their message is loud and clear: You can't possibly be thin enough, toned enough or strong enough. Even the most confident might begin to doubt their body is ready to be exposed to the world. And if you have been working on weight loss or improving fitness, whatever progress that's been made is quickly forgotten when the focus is on how far from "summer ready" you are. Many end up dreading the season that should be filled with fun!

Continued ›
Article created on: 5/31/2011