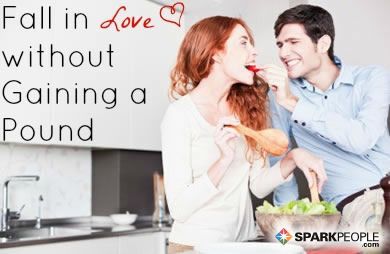 Dating isn't easy. In the beginning stages, deciding what to wear, where to go, and whether you should or shouldn't kiss can be stressful. Then, once you start to get more serious, you have big decisions to make, such as whether to be exclusive, to live together, or to get married. With so much to think about, your healthy lifestyle is probably the last thing on your mind.

Well, it shouldn't be. According to research from the journal Obesity, dating and cohabiting can lead to weight gain. The 2009 study looked at 1,293 dating, cohabiting and married romantic couples, and found that over five years, women who were dating put on an average of 15 pounds, and those living with a romantic partner gained 18 pounds. Men also have an increased risk of becoming obese as they stay in a relationship, but not nearly as much as women.

Researchers say that when you find someone who you really like, you start spending more time with them and therefore adopt some of their less-than-healthy behaviors. Or you cut back on your usual workout time to spend time with your sweetie.

But you don't have to be a statistic! Follow these five tips below to enjoy falling in love—without falling off the healthy living wagon.

Plan Active Dates
If your usual date night consists of dinner and a movie, it's time to get moving! Active dates such as ice skating, hiking, running, laser tag, bowling and dancing give you the opportunity to burn some calories and get to know your loved one much more than you can watching the big screen. In fact, you can even have a date at the gym: grab two side-by-side ellipticals and chat each other up. Or, take turns spotting each other while you lift weights. After all, couples that work out together stay together.

Be Mindful of Portions
When you're going on a lot of dates, it's easy to get wrapped up in conversation and not notice how much you're eating. You might even order foods you normally wouldn't choose off a menu, such as heavy appetizers or decadent desserts. When the date of your dreams asks you out for ice cream, it's hard to say no, right? So instead of saying no to certain foods, think small. When you're out, be sure to put your fork down between bites, order healthy foods whenever possible, and remember to listen to your hunger signals. Your date won't be offended if you don't finish every bite on your plate, and you'll feel much better leaving the restaurant pleasantly filled instead of stuffed!

Continued ›
Article created on: 2/8/2011