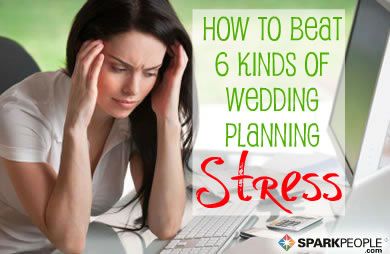 It's a gross understatement to say that planning a wedding is stressful. With all of the coordination, timing and numerous things to prepare for (not to mention family politics!), it's no wonder that nice, normal people turn into grumpy grooms and bridezillas. However, you don't have to become a stressed-out stereotype on your big day. In fact, it is possible to plan a wedding and keep your healthy cool—no matter the situation.



6 Common Wedding-Planning Stressors—and How To Remedy Them


You and Your Fiancé Want Different Types of Weddings
One of the biggest wedding stressors occurs when you and your fiancé have very different ideas of what your special day should be like. Traditional and in a church? Small and in your parent's backyard? A tropical destination wedding? The options are limitless, and couples are less bound by tradition now than ever before. But if the soon-to-be-wed couple can't agree on what kind of ceremony to have, or worse—one person wants a wedding and the other just wants to go to the courthouse—stress can be high from the get-go.

How to de-stress: Before you plan any wedding details, sit down with your fiancé and make a list of the top three things that are important to each of you as far as the ceremony and reception are concerned. Then, calmly and patiently compare lists to see where you can compromise. If he wants a small wedding but you want a big one, you can always hold a small ceremony and then a big after-party. Or, if he wants a destination wedding and you want to be home, simply have the ceremony out of town and the reception in your hometown. Remember that this is the person you are agreeing to spend the rest of your life with, so take a few deep breaths and find a solution that you can both be happy with. Marriage is all about give and take!
Overbearing Family Members or Friends
Almost every bride and groom deals with at least one or two overbearing (yet well-meaning) family members or friends while planning a wedding. Whether it's a future in-law, your own parents or even a bossy friend, all seem to have an opinion on what you should and shouldn't do.

How to de-stress: Remember that this is your wedding—not everyone else's. It may be hard to tell your loved ones "no" or disagree with Aunt Millie about your bridesmaids wearing tangerine, but if you want your wedding day to be truly special and unique you must stand your ground. Politely, yet firmly state your decisions with the support of your partner. Think of it as if others are trying to derail or sabotage your diet—it's really none of their business!
Fear that Your Dress Won't Fit
Continued ›
Article created on: 11/22/2010