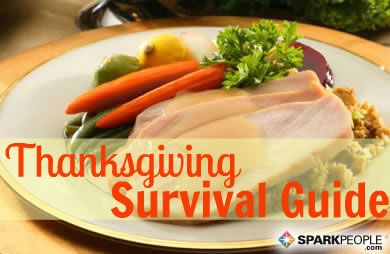 A gathering of close friends and family is one of the happiest times of year for all of us. Celebrations like Thanksgiving can distract us from our everyday worries…but they can distract us from our diets too. Here's what you need to know so that the only thing you're "adding on" this holiday is joy.



A Small Glimpse Into Reality


Counting Calories
The average American will consume more than 4,500 calories and 229 grams of fat on Thanksgiving Day alone, according to the Caloric Control Council. Surprisingly, most of these calories come from the all-day snacking in front of the TV while watching parades and sporting events.

The Truth about Fat
So what happens to all those extra calories? Caloric intake above your total daily energy expenditure (calories in > calories out) is converted into droplets, which are gobbled up by your fat cells. One pound of fat is equivalent to 3,500 calories.

Luckily, following puberty, the body has developed all of its fat cells. Unfortunately, fat cells can never go away. Although they can shrink, you can never actually get rid of the cell itself.

How Many Pounds?
There's good and bad news here. You've probably heard that the average person gains 7-10 pounds between Thanksgiving and the New Year. However, a joint study conducted by the National Institutes of Health (NIH) and the Medical University of South Carolina found that the average person's weight gain is just over one pound. Sounds harmless, but…

The researchers found that the extra weight is stubborn—still present a year later on 85% of study participants. Gaining one extra pound each year can add up significantly, especially if it ends up sticking around forever, as the study suggests.

You're Getting Very, Very…very…sleepy
Americans consume over 675 million pounds of turkey on Thanksgiving Day! Although turkey contains a natural sedative called Tryptophan, the chemical doesn't have a large effect because it's mixed with everything else you eat. That "food coma" you experience is actually the result of your body working overtime to digest all that food!
Continued ›
Article created on: 11/15/2004