From the cheese ball and crackers before to the pumpkin pie after, Thanksgiving meals can weigh in at more than 4,500 calories and 229 grams of fat, according to the Caloric Control Council. That's more than twice the number of calories most of us should eat in an entire day, and enough dietary fat for more than three days!

But Turkey Day needn't leave you feeling so stuffed that you need to loosen your belt at the end of the day. If you're cooking this Thanksgiving, then you're in control of your own destiny because you can decide how much butter, cream and sugar goes into each and every dish. By making some smart substitutions for each recipe, you can easily save calories and fat without sacrificing flavor.

Here are plenty of quick tips and recipe ideas that will slim down your favorite holiday dishes!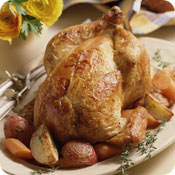 Roasted turkey may be the star of the show, but it doesn't have to be a heavyweight. Turkey tends to be a lean meat—moderate in calories and low in fat. One 3-oz serving of light or white meat typically contains 140 calories and 3 grams of fat. Dark meat is more caloric (160 calories and 7 grams of fat) but it also contains twice as much iron—about 15% of your daily recommended intake. Get healthy turkey recipes here, or use these tips to slim it down even more:
Remove the skin before serving. Save 15-20 calories and 2-3 grams of fat per serving.
Baste your bird with low-sodium chicken broth or white wine instead of butter to cut calories and fat.
Let the turkey rest for 30 minutes before you carve it. If you immediately carve the turkey, the juices will run out, drying out the meat. A moister bird means less need for fatter, greasy gravy.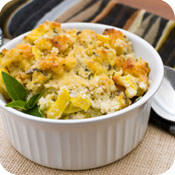 Stuffing is as much a Thanksgiving tradition as the turkey itself. One 1/2-cup serving typically contains 180 calories and 9 grams of fat. You'll find plenty of healthy stuffing ideas here. Boost the nutrition and cut calories with these ideas:
Swap low-sodium chicken broth for most of the butter in your stuffing. Save at least 50 calories per serving and cut the fat in half.
Add more vegetables to your stuffing. Onions, water chestnuts, carrots and celery are all tasty (and low-calorie) additions to the bread in your stuffing. So are mushrooms!
Bake stuffing in muffin tins for instant portion control.
Use whole-wheat or multigrain bread instead of the traditional white bread. These high-fiber whole grains will help fill you up faster.

Green bean casserole is a high-fat side dish that's often loaded with sodium, too. One 1/2-cup serving typically contains 120 calories, 8 grams of fat and 550 milligrams of sodium. These green bean casserole recipes cut the fat and calories in half! Here are more ways to make it healthier:
Use low-sodium or reduced-fat varieties of cream of mushroom (or cream of celery) soup. Per can of condensed soup, you'll save 120 calories and 16 grams of fat by going with reduced-fat version. Choose low-sodium, and you'll cut nearly 1,000 milligrams of sodium (per can) from your recipe.
Use water, skim milk or low-sodium chicken broth instead milk to dilute the soup.
Use reduced-sodium canned green beans, or thoroughly drain and rinse green beans to wash off extra salt.

Mashed potatoes boast about 220 calories and 8 grams of fat per 1-cup serving. But they often contain butter, cream, whole milk and lots of salt. These spuds weigh in at fewer than 100 calories a serving! Try these lower-calorie flavor additions as well:
Heat skim milk (not whole milk or cream) with some herbs and add just enough to thin the potatoes.
Use low-fat or fat-free varieties of sour cream, cream cheese or yogurt for added creaminess. (My mom adds roasted garlic and low-fat cream cheese. It's delicious!)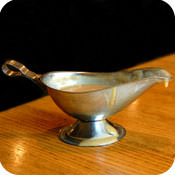 Gravy is, well, the gravy of the Thanksgiving meal! It blankets mashed potatoes with its silky deliciousness, and helps hide overcooked or dried-out turkey. Unfortunately, gravy is often little more than grease and fat, at 100 calories and 4 grams of fat for a 1/4-cup serving. It needn't do as much damage if you use these tips:
Significantly cut calories by skimming the fat from your pan juices. (An inexpensive kitchen tool known as a "fat separator" or "gravy separator" can make that job easier.) Skimming the fat can reduce your gravy to a low 25 calories (and less than 1 gram of fat) per serving.
Short on time? Carefully lay a paper towel on the top of the juices to blot the fat, or add some ice cubes to the pan juices, which will help the fat congeal faster. If you have plenty of time, put the juices in the refrigerator, then scoop off the coagulated fat when it has cooled.
The key to tasty gravy is using all the drippings from the roasting pan (with the fat skimmed off). This gives the gravy plenty of flavor without added fat or calories. Forgo added butter, which really bumps up the calories and fat.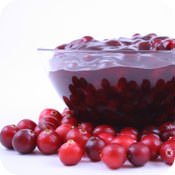 Cranberry sauce, often from a can, is full of sugar, corn syrup and other sweeteners. A 1/4-cup serving contains about 110 calories. Homemade cranberry sauce (click here for recipes with fewer than 50 calories) usually has more nutritional value, less sugar, and just 20 calories per quarter cup.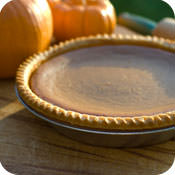 Pie makes a nice finish to a Thanksgiving meal. When cut into 8 slices, one slice of traditional apple pie (with a lattice crust on top) contains 400 calories and 21 grams of fat. Pumpkin pie has 13 fat grams per slice, but fewer calories: 240 to be exact. Desserts are extras and portion control is essential. Try these pumpkin pies with fewer than 100 calories per serving. Follow these tips to indulge in a decadent slice of pie without regretting it later:
Ditch the top crust. Besides saving time, you'll also shave 112 calories and 7.5 grams of fat off each slice of apple pie.
Ditch the bottom crust. You'll save 112 calories and 7.5 calories per slice. Check out these crust-free pie recipes.
Use egg whites or egg substitute instead of whole eggs in your pies. Most recipes will be unaffected. You'll save 30-40 calories and 4 grams of fat per egg.
Slightly reduce the sugar (keep at least half the sugar that the recipe calls for) in your fruit pies. Save 440 calories for every 1/2 cup of sugar you eliminate.
Cut the pie into smaller slices for automatic portion control and fewer calories per slice.
Remember that Thanksgiving is a time to give thanks, be grateful, and enjoy the company of loved ones. You don't have to go overboard to celebrate this special holiday. By using just a few of these many tips and recipes, you'll be able to take part in the tradition without feeling guilty.