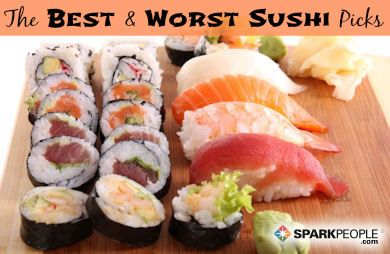 Sushi, in its traditional form, is rice and fish, which makes it a light and lean meal option. However, as sushi's popularity proliferated in the West, some of its health benefits were lost in translation. All-you-can-eat sushi, deep-fried rolls, and fancy mayo-based sauces overtook the artistic simplicity of this iconic Japanese food.

The menus at sushi restaurants are lengthy and, for novices, intimidating. Fun names like "Spider Rolls" and unfamiliar foreign words like "futomaki" only add to the confusion. Many people are so confused they often ask the question "Is sushi healthy?".

To make your sushi experience as stress-free and healthy as possible, we're helping you navigate the menu, highlighting the best and worst choices you're likely to encounter. Plus, we translate the most common Japanese words you'll encounter--and offer our "best practice" tips for leaving the restaurant sated, not stuffed.


Tips for Ordering Healthy Sushi
Skip the tempura rolls. "Tempura" is code for "fried"! Plus, the crisp texture becomes mushy when wrapped in a roll.

Forgo rice. Some restaurants can create rice-free wraps and instead use cucumber, soy-based wraps or just nori (seaweed). Ask your server if any such alternatives are available.

Limit the avocado. Though the fat in avocados is heart-healthy, the calories do add up fast. Also, the avocado flavor is often lost when combined with other ingredients.

Choose cucumber, carrots, and scallions. For crunch and flavor for almost no calories, ask for extra veggies in any roll.

Stick to two rolls. Though each roll only has 8-10 bites, they contain up to 400 calories each, thanks to the cup of sushi rice in each one. Get one fancy roll and one basic roll, add miso soup or a simple salad, and you'll be plenty full.

Ask for hand rolls. Hand rolls (temaki) are cones of seaweed with a bit of rice and all the fillings of a traditional roll. You can save up to 80 calories per roll by asking for hand rolls.

Choose brown rice. You won't notice much of a difference in taste, but you'll get a bit of added fiber.

Stick with the basics. Fancy rolls tend to pile on caloric extras like cream cheese, tempura coating, and mayonnaise. Choose fish, rice, and vegetables for a lighter meal.

Get the appetizer-size sashimi platter. Slices of raw fish are a great choice, but the typical platter has at least three servings. Share with a friend or get the appetizer portion.

For spice, choose wasabi. Spicy sauces are usually mayonnaise based, so choose wasabi instead to save calories.

Go easy on the soy sauce. Choose low-sodium soy sauce, but use it sparingly. A tablespoon of low-sodium soy sauce still has 25% of your daily sodium.

Don't fill your soy sauce cup. Sushi comes to you pre-seasoned, so the added saltiness of soy sauce can mask the delicate taste of the fish. If you really want extra salt on your rolls, don't fill up the dipping cup. Instead, top each bite with a drop or two of soy sauce as you eat.

If you're watching your sodium, know where it's hiding. Miso soup is a low-calorie option, but it can be salty. Most brown sauces, including the sweet-and-salty sauce that comes on grilled eel and the dipping sauce for tempura, can also be high in sodium.
Know the Lingo:
Futomaki: a thick roll, usually cut into eight pieces. Specialty rolls are usually futomaki.

Hosomaki: thin roll with just one type of filling. Single-ingredient rolls such as salmon, tuna, or cucumber rolls are usually hosomaki.

Uramaki: a roll with the nori (seaweed) on the inside and rice on the outside. Sometimes called an inside-out roll.

Temaki: Also called a hand roll, this is a cone-shaped nori roll with the ingredients and minimal rice inside.
Let's run through a typical sushi menu to highlight the best choices, along with those you should limit.
Continued ›
Article created on: 3/18/2014