7. Chinese "Take-Out." To make typical Chinese-restaurant dishes into healthy comfort food, you'll have to cook them yourself, but it's soooo worth it. This combination of Cashew Chicken and Baked Egg Rolls will hit the spot without send your blood pressure through the roof from all the salt.





8. Pizza. A slice of pizza every once in a while won't hurt you, but this cauliflower crust pizza is healthy enough to eat whenever you have a craving. Once you've baked the crust the toppings are up to your imagination. Try fresh tomatoes, basil and buffalo mozzarella for a traditional taste or go for grilled chicken breast, reduced-fat cheddar and a drizzle of barbeque sauce for something more fun.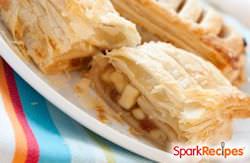 9. Apple Pie. The individual apple pies you'll find at fast-food places and grocery stores can have anywhere from 250-470 calories a pop! But this 15-minute hand pie, made with fresh apples and phyllo dough, clocks in at only 161 calories. You won't miss the fat when the flavor hits you.






10. Chocolate Mousse. Traditional mousse desserts are full of fat and calories that taste delicious but will likely leave you feeling bad about your food decision. But you can enjoy the great taste of chocolate mixed with Greek yogurt for a super-satisfying dessert with only 150 calories. Garnish with strawberries or banana slices for a sophisticated look and flavor.
Continued ›
Article created on: 12/3/2013