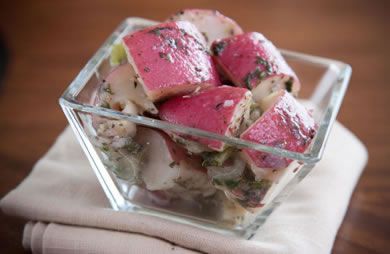 The poor potato. It really has gotten a bad rap.

A plentiful crop that's easy and inexpensive to produce, the potato has been a dietary staple across the globe for centuries. (Ireland, a country whose diet once relied almost entirely on the potato, saw one million people die of starvation when the crop failed in the mid-1800s.)

Potatoes are packed with dietary fiber, nutrients, and carbohydrates. Due to their high carb count, potatoes have been labeled as a no-no under low-carb diet trends like Atkins. This has knocked the skin off the potato market in the U.S.: Consumption has dropped from a high of 145 pounds per person per year in 1996 to 118 pounds per person per year in 2011.

But there's no need to avoid carbohydrates in moderation—especially complex carbs like the ones found in potatoes. The main problem with the humble potato is that it seems to lend itself to all kinds of adulteration: mashed with butter and cream, deep fried, stuffed with bacon and cheese—all diet-wreckers for sure.

But with all the potato varieties in grocery stores and at farmers markets—blue, sweet, fingerling, gold—this tuber really does belong on our plates. Make potatoes a moderate portion of your diet and prepare them healthfully, and you'll enjoy all the tasty benefits the spud has to offer.

What Are Potatoes?
The potato is part of the Solanaceae, or nightshade, family (as are eggplants, peppers, tomatoes, tobacco and the poisonous nightshade for which the family is named). The potato plant produces a flowering plant above ground while the edible tuber (essentially a thickened, starchy root) grows below.

Let's clear up the confusion about potatoes, sweet potatoes and yams: They're all members of distinct plant families, unrelated to one another. The only thing these three have in common is their growing habit: All are edible tuberous roots supported by above-ground flowering plants. Below, we'll cover the differences among them and focus on their nutritional profiles.
Continued ›
Article created on: 9/11/2012