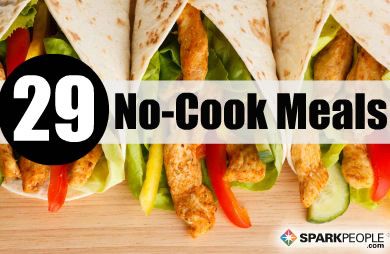 When the mercury rises, the last thing you want to do is spend time cooking in a hot kitchen. Conserve your energy and give the stove and oven a break with these no-heat meals. Beyond salads and sandwiches, these dishes feature creative ways to use the bountiful, fresh fruits and vegetables that are readily available and affordable this time of year.

A few of them do take some help from the supermarket, in the form of healthier convenience foods like heat-and-eat rice, pre-cooked shrimp, and canned tuna, but we like to believe that's the opportunity cost of not having to stand over a hot stove for an hour. Keep reading for more than four weeks' worth of no-cook meals--enough ideas to get you through the dog days of summer without turning on the stove!

No-Cook Breakfasts
Fruity Cottage Cheese
This creamy breakfast packs in the protein. Choose low-fat cottage cheese, then top with your favorite summer fruit. Berries are a perfect pair, as are peaches or melon. Round out the meal with a slice of whole-grain bread or a serving of crackers. Find more healthy cottage cheese recipes.
Muesli
Think of muesli, the traditional Swiss breakfast of raw oats, dried fruit, and nuts, as instant granola--minus any added sugars or oils. Serve over yogurt, pour on skim milk, or eat with ricotta or cottage cheese.
Overnight (Soaked) Oats
Soaked overnight in yogurt or milk, muesli becomes "overnight oats," a hot-weather alternative to a steaming bowl of porridge. Combine raw oats with yogurt or skim milk, a sprinkle of ground flaxseeds or ­chia and cinnamon. Stir, cover, and refrigerate. The oats will absorb the moisture from the milk or yogurt and become soft--almost to the consistency of cooked oats with a bit more texture. Start with equal parts oats and liquid, adding more liquid to thin the oats to the desired consistency. In the morning, top with berries or your favorite oatmeal stir-ins.
Peanut Butter and Banana Wrap
You can't beat this fresh spin on an old favorite. Start with a whole-grain wrap, then spread a thin layer of natural peanut butter in the middle, and top with sliced banana. Dress it up with spices (try cinnamon, nutmeg, pumpkin pie spice, or cardamom) and a drizzle of honey or maple syrup. This is equally delicious with fresh berries, sliced peaches or (for the brave among you) pickle slices. Tired of plain PB? Try one of these nutritious nut butters.
Yogurt Bowls
Start with a serving of low-fat or Greek yogurt. Top with fresh fruit, ground flaxseed or chia seeds, a sprinkle of cereal or granola and maybe a drizzle of honey. If you're feeling fancy, layer the ingredients parfait style in a sundae dish or glass.
Fruit & Yogurt Smoothie
Cool and portable, smoothies are a great way to jam pack your meals with fruits (and vegetables). Start with a base of one serving of low-fat yogurt or skim milk, then add at least two servings of fruit. Boost the satiety factor by adding a scoop of protein powder, a spoonful of nut butter or a sprinkle of ground flax or chia seeds. Puree and slurp. Tip: If you struggle to get enough greens into your diet, consider tossing a couple of cups of greens (try spinach or mixed baby greens) into your smoothie. The fruit in your smoothie will mask the flavor of the greens, and it's a lot easier to gulp down a few cups than to plow through a huge salad!


Tomato & Ricotta Toast
Slather 1/4 cup low-fat ricotta cheese on a slice of whole-grain bread (toasted if desired), then top with thick slices of fresh tomato, plenty of black pepper and a few sprigs of herbs.
Continued ›
Article created on: 7/23/2013