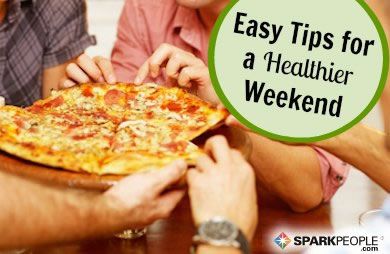 You work hard to stick to a healthy routine all week long. You choose and prepare healthy meals, avoid the temptations of junk food and make time for physical activitiy. You reach your weekly goals and are feeling good about your healthy choices. Then, Friday comes along. You make some not-so-healthy choices for a couple of days and feel as though the progress you made during the week was all for nothing. On Monday morning, you're back at square one. Sound familiar?

If so, you are not alone! Most Americans tend to consume more calories on the weekends than on the weekdays. In 2003, a study published in Obesity Research found that the average person between the ages of 19 and 50 takes in an average of 115 extra calories on each weekend day.

For many of us, the weekends allow us to step out of our work roles, relax, and spend some time doing the things we enjoy most. Typical weekend activities may include meeting friends for drinks at a bar, eating out at a restaurant, filling up on popcorn at the theater, or enjoying a lazy afternoon on the couch. The excess calories and lack of physical activity on the weekends can easily derail your diet and cause you to slowly pack on the pounds.

This weekly cycle is frustrating for many people, but it's not impossible to break out of it! Taking small steps and being mindful of where you spend your time and calories on the weekends can make a big difference. Here are some tips that may help you avoid the downfalls of overindulgent weekends:

Build structure and routine into your weekends.
Many people ''slip up'' on the weekends because of a lack of structure. Try to follow the same sleep patterns you would during the week. Wake up in the morning at the same time and eat your meals at the same time. This will help you to regulate the amount of food you eat each day and prevent you from grazing in the kitchen.

Make sure to eat breakfast.
Eating breakfast on the weekends is just as important as it is during the week. Try to keep the same schedule and wake up for breakfast on the weekends. However, aim to keep your morning meal low in calories. Feel free to make eggs along with whole grain toast and fruit, but save calories and fat by skipping the cheese and high-fat breakfast meats!

Continued ›