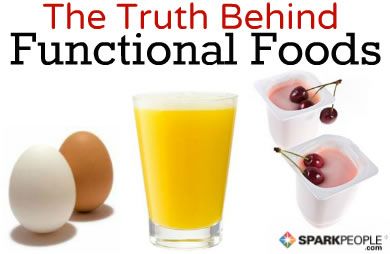 All kinds of foods provide nutrients that your body needs. But some foods, known as "functional foods," do more for you body than just provide nutrients. They may also play a role in the prevention and treatment of certain chronic diseases. Orange juice is enhanced to help lower cholesterol; new sodas add ingredients that help you lose weight; and cultures added to yogurt boost your immune system, for example. The interest and demand for these functional foods is high and continues to grow as people recognize their potential to improve health and well-being.

There are many questions and concerns in this emerging field, as well as lurking danger and deception for uninformed consumers. It's crucial to make informed decisions about all the foods you choose to eat. While that is challenging and should be based on sound scientific evidence, this article will help you learn to separate the claims from the facts.

What are Functional Foods?
A globally-accepted definition for functional foods does not exist. In the United States, the Food and Drug Administration (FDA) currently has no legal definition at all. For now, the FDA has borrowed a definition from the Institute of Food Technologists stating that functional foods are "foods and food components that provide a health benefit beyond basic nutrition." Some other organizations define functional foods slightly differently:
The Food and Nutrition Board of the American Institute of Medicine: "Any modified food or food ingredient that may provide a health benefit beyond the traditional nutrients it contains."
The Academy of Nutrition and Dietetics (formerly the American Dietetic Association) states, "Functional foods, including whole foods and fortified, enriched, or enhanced foods, have a potentially beneficial effect on health when consumed as part of a varied diet on a regular basis, at effective levels."
This lack of consistent definitions demonstrates the absence of standards, which leads to a lot of confusion for consumers and professionals.

Can You Believe What You Read?
Every time you turn around, more food companies are enhancing their products with extra ingredients, supposedly transforming traditional foods into designer foods with properties that improve your health. Can you believe all these claims?

It depends on the source. Be wary of reports about one study that showed a benefit when eating a certain food. Never change your diet (or other habits) based on a single research study. On the other hand, if an article summarizes a number of studies that took place in people (not animals or cell cultures), then the information is probably balanced. Make sure the source is credible. When in doubt, write your question down and post your question on the Diet and Nutrition Message Board for the SparkPeople experts. You can also ask your health care provider whether the information is accurate, if it pertains to your specific health needs, and whether you should act on it.
Continued ›
Article created on: 4/8/2004