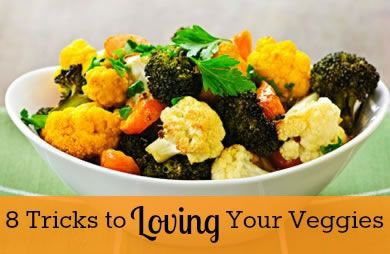 When I became a vegetarian, I could have probably counted the number of fruits and vegetables that had crossed my lips the previous 18 years on two hands.

But things are different these days, and veggies are the highlight of my lunches and dinners. But it wasn't always that way. Like most people, I hated all things green and healthy.

I get questions about this a lot--people calling themselves picky eaters, saying they don't like a single vegetable out there. Take it from a person who was just like you. You CAN learn to like vegetables. And beyond that, you CAN meet your daily quota in a variety of tasty ways.

Here are 8 techniques and tips I used to like vegetables. Try them yourself--you just might be surprised.

Say no to plain vegetables. One of the main reasons people don't like vegetables is because they try to eat them plain. If you're new to eating healthy, this is one of the worst things you can do! Most people don't have the taste buds for a plate of steamed broccoli or spinach. And why should you have to suffer through that for the sake of your health? The thing I did most when I started eating healthier was put vegetables into things I already ate: broccoli mixed in with macaroni and cheese, chopped carrots mixed in with seasoned rice mixes, and frozen spinach added to a can of soup are just a few examples. This is a great way to introduce veggies into your diet, where the flavors of the other foods you eat them with help them taste better and less noticeable. Start by adding small amounts of veggies to your standard meals, and as your taste buds adapt, you can add more and more.

Mix your food. If you're one of those people who neatly puts your food into distinct piles on a plate, never mixing them up, then you might hate this idea. I'm not one of those non-food-mixers myself. Most of my meals get mixed up into one big jumble, and while it doesn't look pretty, it sure tastes good. This is similar to the tip above, incorporating veggies into dishes you already eat. But sometimes you can't just add a helping of peas to, say, a turkey burger. But served as a side, you can mix bits of veggies on your plate with the other main dishes--to add flavor and mask the taste if you don't like it.

Continued ›
Article created on: 9/29/2010