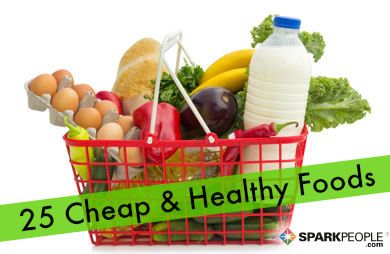 Watching your wallet and your waistline can be tricky. Eating right is easy when money is no object, but a trip to the supermarket often yields frustration for healthy eaters on a budget (which is most of us!). Fruits, vegetables, whole grains and lean protein are on your list, but they're so much pricier than Ramen noodles, frozen pizzas and bottles of soda!

Sure, some healthful foods are more expensive, but the same rules of smart shopping apply: Price compare, be flexible about brands and choose larger sizes to save money per serving.

To help make your next shopping trip a breeze, but we've scanned the shelves and roamed the aisles to find 25 foods that are nutritious and affordable. (Prices from Meijer.com and Kroger.com, Cincinnati area, and the U.S.D.A. Fruit and Vegetable Retail Report, June 2013. These prices will vary according to location.)



Protein

1. Canned salmon: $3.09 for 14.75 ounces (77 cents per serving)
Get your Omega-3's for less. Salmon is full of these healthy fats, which help lower cholesterol and prevent heart attacks.

2. Chicken breasts: $5.99 per 3-pound bag (49 cents per serving)
Easy-to-prepare, chicken is full of lean protein, which helps keep you fuller longer.

3. Natural peanut butter: $3.39 for 16 ounces (42 cents per serving)
Skip the sugary, processed varieties and spread the real stuff on whole-grain bread. Throw a tablespoon in smoothies or yogurt, use it as a dip for carrots and pretzels, or mix it with a bit of low-sodium soy sauce, brown sugar and garlic, then thin with water for a quick sauce.

4. Canned beans: 84 cents for 15 ounces (22 cents per serving)
Bulk up soups and stews while getting protein and fiber. Try chickpeas or black beans if you're not a fan of kidneys or pintos. Drain, rinse, and blend with lemon juice, garlic, cumin and a bit of vegetable broth for a quick dip.

5. Eggs: $1.99 for a dozen large (17 cents per serving)
Not just for breakfast, eggs are among the easiest foods to cook. If you're watching your cholesterol, scramble one egg and two egg whites. Add onion and spinach and you've got a great omelet.

6. Dried lentils: $1.35 per pound (14 cents per serving)
Full of protein and fiber, lentils cook in just 15 minutes! Throw some in soups and stews or cook with curry powder for a quick, spicy meal.

7. Almonds: $8 per pound (50 cents per serving)
Get vitamin E, fiber and protein while satisfying a crunchy craving. Nuts are rich in an amino acid that could be linked to heart benefits. Chop a few raw ones and throw them on yogurt.



Fruits

8. Frozen fruit and berries: $2.99-$5.99 per pound (75 cents-$1.50 per serving)
Throw some in the blender with milk or yogurt for a healthy treat. Frozen berries can be used in oatmeal or drained and baked into muffins and quick breads.

9. Apples: $1.39 per pound (35 cents per serving)
They might not keep the doctor away, but apples are actually full of antioxidants, which help slow the progression of age-related diseases.

10. Bananas: 48 cents per pound (12 cents per serving)
Slice one on your morning yogurt or oatmeal for some added fiber and only 100 calories or so. Snack on a potassium-rich banana to prevent cramps after a workout.

11. Grapes: $1.86 per pound (37 cents per serving)
Freeze grapes for a low-calorie dessert or snack. Grapes--especially the dark purple ones--contain plenty of antioxidants that are known to help heart health.
Continued ›