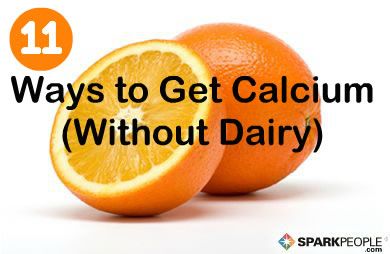 When I was a wee tot, I frequently had stomach pains that were once bad enough to warrant a trip to the emergency room. Everything looked fine according to the doctor, but my pains continued. Finally, an allergist diagnosed me with a milk allergy, and as soon as I stopped eating dairy, my symptoms disappeared. They said I might outgrow my allergy someday, but for the time-being I had a new problem. How would I get enough calcium if I wasn't drinking any milk? Many people face a similar dilemma, whether they are forced to give up dairy because of an allergy, or because they choose to for other reasons.

There's no doubt that calcium is essential. According to the National Institutes of Health (NIH), the body maintains a constant level of calcium in the body fluid to support the many body functions for which calcium is necessary, including muscle contraction, blood vessel contraction and expansion, the secretion of hormones and enzymes, and sending messages through the nervous system. That means it's needed to keep your heart beating and your muscles functioning, among other things. But the calcium in body fluids and muscles accounts for only about 1% of the total calcium in your body. The rest of it is stored in the bones and teeth, where it provides structural support and acts as a sort of "savings account" from which calcium is repeatedly withdrawn and deposited.

Although calcium intake is important throughout the life, the most important time for building up this savings account balance is during childhood, when there is a higher amount of bone formation and less breakdown. During adulthood, these processes are more equal, and then during later years, the breakdown takes over as the predominate process, which leads to weakening of the bones.
Continued ›
Article created on: 3/25/2008