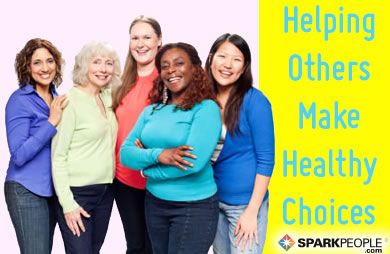 If you've been working hard to lose weight and adopt a healthy lifestyle, you probably know how difficult that can be, and how important it is to have the support and help of others who are doing the same thing. You've probably been inspired by someone else's success, gotten some important advice, or found a sympathetic listener just at the precise moment when, otherwise, you might have given up. Maybe that happens for you nearly every day.

When important people in your life are also struggling with weight problems or making healthy decisions, you probably want to give them the same help and support you've received from others. Easy enough—as long as they're looking for what you have to offer.

But what do you do when someone you care about doesn't seem to want to change her lifestyle or lose weight, even though she's putting herself at risk? What if she really wants the results of eating well and exercising regularly, but isn't so keen on doing the things that make those results happen? How can you motivate someone to do what you know she needs to do—is that even possible?

What You Can't Do
Conventional wisdom says that you can't motivate someone else. Maybe you can, however, inspire her with your own good example, give her the information she needs to solve problems, or support her when the going gets tough. But like the proverbial light bulb, that person is not going to change her behavior unless and until she wants to change it, and is ready and willing to do what has to be done. The desire and readiness have to come from inside.

This conventional wisdom is probably true, but all it really tells you is what you can't do to motivate someone else. You can't provide her with a good reason to get healthy, you can't persuade her to do it by the sheer brilliance of your logic and persuasive techniques, and you can't convince her by the persistence of your nagging, suggestions, bribes, threats, predictions of disaster, or other manipulative devices. Until the object of your concern wants to do something about her situation, anything you tell her is going to fall on deaf ears.
Continued ›
Article created on: 9/11/2007