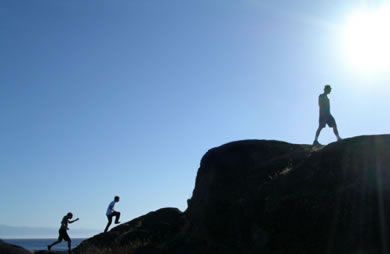 Couldn't all of us use a little motivation from time to time? Recently, one member inspired everyone here at SparkPeople, and we think her story can help you too. Donna (DONNA999) may be several pounds away from her goal, but as a busy mother of two with a demanding job, she's like so many of us—learning from mistakes, making gradual changes, seeing progress and facing pitfalls. We're going to follow her as she uses SparkPeople to reach her goals. If you missed her first entry, read "Donna's Ah-Ha Moment" before you continue below and see where she is now!

4/30/05
My younger sister called, complaining about all the weight she's put on in the past two years…5 pounds. She's determined to get back down to 110 so she fits in her size 3 jeans better. As I listened to her, I knew I didn't want either of my sisters to EVER know how much I weigh.

Until then, I'd been feeling great about the weight I'd lost so far. I didn't say anything but after I got off the phone I felt almost depressed. Getting to 130 will take so much time and effort—it almost seems an impossible goal. And when I do finally get to 130, then I'll STILL be the fat sister—well maybe the healthy, athletic sister.

5/6/05
Today has been great! I weighed this morning and I'm down two more pounds ... 188 now. I've lost 17 pounds since I started. Three more pounds and I'm taking scuba lessons. I think I'll pick up few copies of the scuba schedule so I can tape them on my mirror and on my fridge as extra motivation to stay on track.

I'm struggling today not to give in to temptation. My ex brought home a chocolate pie. Every time I open the fridge it's sitting there with its creamy topping and curls of chocolate on top. Several times I've picked up a spoon so I could have a tiny taste but I've managed to not do it yet. I KNOW if I start I won't stop until I eat too much. Better if I don't start.

That pie isn't worth regaining any of the pounds I've lost. I've got to keep telling myself that! It helps having the scuba schedule on the fridge. It makes me think every time I go to "trim" the edges of the pie.

5/7/05
The good: Lost 2 pounds, stayed within the lower part of my calorie range and within my carb range, drank my water, exercised at least 60 minutes on 5 days.

Continued ›
Article created on: 6/30/2005