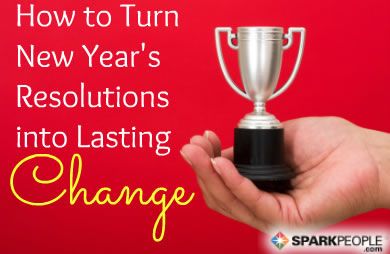 On January 1st, many of us are geared up to get healthy and fit. But, by mid-February, our diets are faltering and our fitness routines start getting stale. Falling out of a resolution can be a fast downward spiral. If you're someone who thrives on novelty, how can you make sure that your New Year's goals last longer than those tempting leftover holiday cookies? There are a few sneaky forces at work when unhealthy behavior spirals out of control, but you can stop that spiral and maximize your momentum using strategies from the field of behavior science.

Behavioral Momentum
Imagine yourself navigating the calorie minefield at a big holiday party: You start out innocently munching veggies and dip, migrate to more hefty hors d'oeuvres (they're tiny!), and slowly make your way to the buffet table. Before you know it, by the end of the night you've sidled up to a giant slice of pie, inhibitions thrown out the window. In behavior science, we have a name for this seemingly inescapable inertia: behavioral momentum. Each small slip-up we make paves the way for us to continue making similar mistakes in succession.

While behavioral momentum can work against us (think an obsessive, mindless feeding frenzy), it can also drive us to achieve difficult or challenging feats (like spending Saturday afternoon cleaning out the entire garage when you only went in to stash a box of holiday decorations).

You can let behavioral momentum drag you down, or you can use it to push you toward any healthy goal. At first glance, a New Year's resolution to lose weight, eat better or exercise more can seem daunting and overwhelming. But, by breaking down your goal and using behavioral momentum, you can make steady progress through the weeks and months ahead. In the beginning, set a small goal (say three laps in the pool per workout or two home-cooked meals per week). Once you've mastered your initial goal, add a little more "oomph" to it each week (five laps in the pool, start packing your lunch, too). Soon, you'll find that it will become easier to stay on track and that formerly rare behaviors are turning into habits.

Incentive Systems
Let's face it, as much as we all know how important it is to practice healthy habits, the benefits of a balanced lifestyle aren't as powerful or as immediate as the payoff of unhealthy behaviors. Sure, healthy people stay mobile longer, are less likely to develop degenerative diseases and generally live longer, more fulfilling lives—you already know that. But when you're struggling to keep up with daily diet and exercise, there aren't many instant, tangible incentives for your healthy choices that can compare with the instant (albeit fleeting) gratification you get from indulging in a double chocolate brownie.

Continued ›
Article created on: 1/17/2012