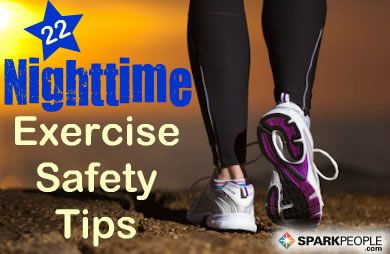 Everyone knows how important it is to maintain a regular fitness routine, but sometimes the day is so jam-packed with other responsibilities that exercising during daylight hours is next to impossible. However, if you like to exercise outdoors, there are some safety issues to consider if you're going out after dark (or before sunrise).

Plan Ahead for Safety
Staying safe at night requires a bit of planning. Here are some things to consider before heading outside:
Plan your route and tell someone where you will be. Let your friends or family members know when to expect you back and make sure they know your exercise route.

Carry a cell phone at all times. It's also a good idea to locate all public telephones along your route in case your phone is lost or stolen along the way.

Carry identification. Bring a driver's license or some sort of ID tag. At the very least, make sure you name, phone number and emergency medical information is printed inside of your shoe or on a card in your pocket.

Don't wear jewelry or carry money. This can help reduce your risk of being targeted for a robbery.

Dress to be seen. Wear reflective materials and bright colors so drivers can see you easily. Although most running shoes now have reflective materials built into them, you can increase your visibility by wearing specially designed running pants, shorts, jackets or even a reflective vest. Carry a flashlight or a flashing device to make you even more noticeable on dark streets.
Continued ›
Article created on: 11/13/2007