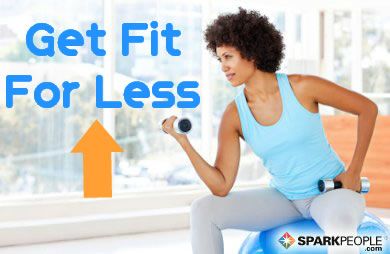 Congratulations! You've decided that this is the perfect time to finally get in shape. Have you priced out exercise equipment or gym memberships yet? If not, brace yourself for a bit of sticker shock! Getting in shape can take a significant chunk of change. But don't throw in the towel just yet—there are plenty of ways to cut your fitness expenses and still get the resources you need at a price you can afford.

Save at the Gym
Going to the gym is a popular way to get in shape. Depending on what time of the year you join, you can get a really good deal on membership rates. Health club enrollment typically spikes in January, as thousands of well-meaning people decide to make good on their New Year's resolutions. This isn't the time to get a deal, however, since clubs don't need to offer discounts to attract new members.

But everything changes in the spring and summer when the number of new members begins to dry up. May to September is the ideal time to haggle with your local gym over fees. You have even more bargaining power if you can get a lower price from another gym on the other side of town—many gyms will match the price of their competitor in order to get the sale.

Most clubs tack on some sort of registration fee when a new member signs up, but this extra cost can often be waived. Tell the sales representative that you need to think about it for a while and be honest about your pricing concerns. If you don't seem too eager to join and it looks like you're going to forget about the whole idea, the rep may reduce—or even eliminate—the fee completely. And ask about other payment options, like paying-in-full. If you can afford to pay for a yearly membership in one payment, most gyms will greatly discount that cost and eliminate registration fees to boot. Don't forget to ask for student or family discounts to bring the cost down even further.

If you already have a gym membership, take a closer look at the fine print—are you paying for extras you don't need, like towel service, saunas or a swimming pool? Unless you're actually using these amenities, you're throwing away your money every month. Renegotiate your contract and cut out the frills—threaten to cancel your membership completely if your gym balks at the change. Chances are your dues will drop because the gym won't want to lose the ongoing revenue your membership provides, even if it is a bit lower than before.

Continued ›
Article created on: 6/26/2007