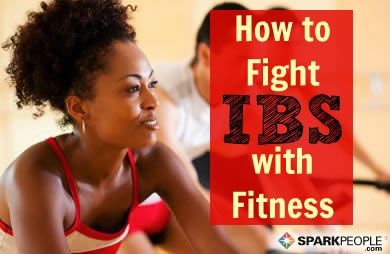 Irritable bowel syndrome (IBS) is a condition that's not always discussed openly, but is surprisingly common. Recent estimates state that 10% to 15% of the general population experiences uncomfortable and painful IBS symptoms like cramping, abdominal pain, bloating, constipation, and diarrhea. No one knows exactly what causes it, but if you are someone who suffers from IBS, you know that it has a major impact on your everyday life. Even without knowing the specific causes of IBS, there are specific things you can do to help prevent flare-ups and alleviate symptoms.

Research has shown that exercise can improve your quality of life if you suffer from IBS. A study published in the journal Clinical Gastroenterology and Hepatology found that a higher BMI was more likely to be associated with gastrointestinal (GI) pain, whereas a healthy diet and regular physical activity were associated with fewer GI symptoms.

So how does exercise help if you suffer from IBS? Most doctors consider stress to be one of the triggers of irritable bowel symptoms. Although stress doesn't directly cause IBS, it can aggravate the condition. Exercise helps relieve both physical and mental stress. Physically, exercise warms and relaxes cold, tight muscles. During exercise, the bowel typically quiets down because blood is being pumped to other parts of the body. If you exercise regularly and become more physically fit, the bowel may tend to relax even during non-exercise periods.

In terms of mental stress, many doctors believe that IBS has psychological origins. When someone is under a great deal of stress, they are more prone to mental strain, which can then lead to physical problems. Exercise helps tackle the psychological origins of stress by triggering the release of endorphins (brain chemicals that improve mood and promote a sense of well-being). Stress has not been proven to cause IBS, but it can certainly make it worse. That's why it's so important to keep your stress levels under control.
Continued ›
Article created on: 5/8/2007