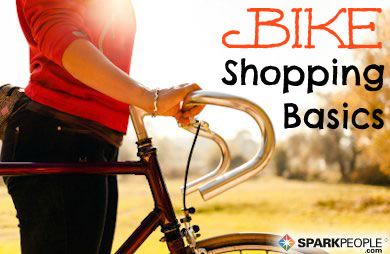 Whether you want to help the environment, cut down on your gasoline expenses, or simply exercise in the great outdoors, cycling is a great way to get fit and have fun at the same time. And it's one of the fastest growing leisure activities in the United States, where 1.3 million adult bicycles were sold in 2004 alone.

But buying the right bike isn't as simple as visiting your local "big box" retail store. First, you must think about exactly where you will be riding and how often. Is comfort your biggest concern or do you care more about how the bike looks? Will you be taking leisurely rides around the countryside or are competitive races more your speed? Whatever you decide, there is a bike that fits. Here are the six most popular types of bicycles for adults, along with details that will help you pick the best one for your needs.

Mountain bikes ($400+) are rugged. They're built with stronger components and frames than other bikes because they're intended for off-road riding on hills and over rocks and logs. The knobby tires and suspension systems on these bikes give them better traction and shock absorption on this varied terrain, but you can ride a mountain bike on-road too. With most mountain bikes you can expect: 26-inch wheels, 21-27 gears, a forward-leaning position when seated (which can be uncomfortable, especially if you have lower back problems), and lower gears for easier hill climbing.

Trail bikes and light-duty mountain bikes ($200+) are similar to mountain bikes, but a little heavier, less rugged, and less expensive. Meant for trail and road riding, these bikes can't handle the rough terrain that true mountain bikes can. These bikes are ideal for a casual riders such as college students, commuters, and recreational riders. Most trail bikes will have: 26-inch wheels and 21-24 gears.

Comfort bikes ($200+) are similar to both mountain and trail bikes, but are designed to be more comfortable. With a shorter distance between the seat and the handlebars, you'll sit in a more upright position on a comfort bike (which is good for people who have lower back problems). Expect a smooth ride on a comfort bike, as most will have: 26-inch wheels, 7-24 gears, and other comfort-enhancing features like wide, soft saddles (seats), wide pedals, and shock-absorbing seat posts, handlebar stems, and front forks.

Touring bikes and road bikes ($400+) are aerodynamic, lightweight and fast—very different from the bikes described so far. They are built for pavement (on-road) riding, so they have smooth and narrow tires, skinny saddles, and "turned-down" handlebars. These bikes are ideal for long-distance riders who want more speed and intense workouts. Both touring and road bikes tend to have 27-inch (700C) wheels and 14-27 gears. You can expect most touring models to have a longer wheelbase, greater shock-absorbency, and a variety of ways to attach carrying racks and bags. In contrast, road bikes usually have a slightly shorter wheelbase (for faster response) and weigh less.

Continued ›
Article created on: 4/17/2007